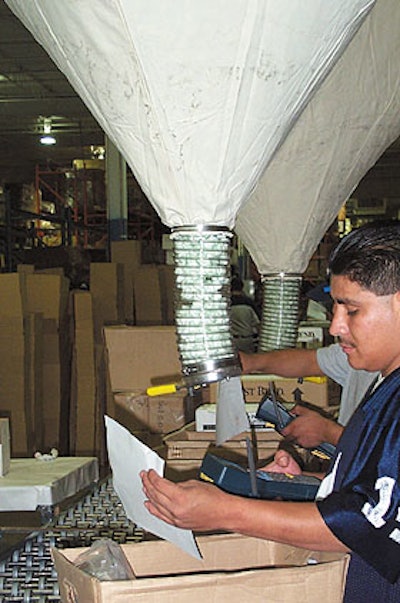 Costs will rise as e-commerce makes a more noticeable impact in the packaging community. That was the prevalent theme that emerged from Packworld.com's online survey about direct-to-consumer marketing. Conducted late last year, the survey asked respondents to comment on costs, staffing changes, experiences and the impact of e-commerce on their respective companies. Not surprisingly, respondents crowed loudest about costs. "Costs will increase 10 to 15 percent," said a representative from a well-known soup producer in the East. Three respondents estimated price hikes of 10%. A respondent with a Southeastern food marketer said there will be "increased costs for packing properly." A worker with a Western Canadian food company pointed out that "smaller runs equal increased cost per item." ( For survey results, see story, p. 78. For survey methodology, see sidebar, p. 81.) "More packaging, more money," stated a participant from a Midwestern manufacturer of sinks and related products. Another mathematical equation was offered by a food company employee in the Plains states: "More changeovers equal more waste of materials, which equals more cost." A respondent with a Midwestern food company anticipated costs to rise due to "custom small-quantity secondary packaging [needed] for e-orders." Not all of the comments expected e-commerce orders to drive costs upward. A representative of a pharmaceutical firm in India forecasted "decreased costs due to the elimination of secondary packaging," and the need for fewer "colors with less-fancy graphics." Agreement came from a representative of one of the most dominant computer software makers, who wrote, "Some products will be delivered via the Internet, thus requiring no packaging." Three respondents indicated that their companies already shipped products in small parcels, so e-commerce orders would not have a significant impact on costs.
E-commerce impact Beyond costs, survey respondents most frequently commented on the other ways e-commerce would affect their companies. The responses to this question elicited comments that addressed wide-ranging issues. Understandably, the focus of e-commerce packaging usually is aimed at the point of shipment. But the Packworld.com survey did provoke remarks concerning job functions much further upstream. For example, a worker with an Eastern company in the electrical industry offered this opinion: "I feel we'll see a greater percentage of packages getting pre-shipment testing." One especially salient point relating to e-commerce came from an employee with a pharmaceutical firm in the United Kingdom who said such shipments "will require incorporating multiple countries' regulated information onto packages and instruction leaflets." Looking beyond package graphics, a respondent from a large Midwestern producer of nutrition supplements added that e-commerce shipments would require "a redesign of the main package to meet the rigors of shipping."
Individual shipments Shipping individual packs rather than more traditional pallet-load quantities is one of the hallmarks of e-commerce packaging. Yet what effect will this have on packagers? A few respondents addressed the subject, either directly or indirectly, in this question pertaining to the impact of e-commerce on their company. There will be "an emphasis on smaller units of sale," noted the representative of the soup manufacturer. That, he expected, "would increase the use of corrugated and secondary packaging." A pet care firm's employee in the East wrote, "Pack-out [personnel] will have the added responsibility of on-demand packaging for direct shipment to consumers." A maker of organic food products in the mid-Atlantic noted a need for change. "All our [company's] storage now is for bulk [shipments]; we'll have to develop package storage." The representative of the pharmaceutical firm in India made another point regarding e-commerce orders, though far upstream of shipping. He believed e-commerce will result in "shorter lead times and more product launches with short[er] runs aimed at narrow, niche markets." That could strain current work patterns, as evidenced in the remarks from a representative of a Finnish firm. He questioned how a company could provide "24-hour delivery with[in] eight office hours." According to at least two survey respondents, more equipment will be necessary for efficient online order shipments. "Individual sales units may need to be more easily handled by an automated system that may require size/shape modifications," noted a representative with a large food company in the Southeast. "Shipping individual units in [something other than] a corrugated shipper may also require other packaging strategies." Equipment changes were also on the mind of a worker at a West Coast food company who said, "We need to streamline our packaging line to meet the demands of e-commerce. This can be done with increased machinery and cheaper packaging materials."
'Huge' potential E-commerce has "huge growth potential," said an employee of a sports clothing producer in the West. And a participant at a food company in the Ivory Coast had this to say about e-commerce's business impact: "Our consumer perception would improve. This will help us modify our current products and services. The insights would guide us in developing new technologies and packaging lines." The survey also offered respondents an opportunity to discuss staffing changes caused by packaging for e-commerce. In one instance, a representative pointed out that the Midwest cosmetics firm he works for already established a Web site to sell its products. An employee with a Midwest grain producer indicated that his company would need to "add people to handle incoming orders and to run machinery." A representative of an Eastern tool-making company said the firm would have to "establish a packaging department." Similar responses from other company personnel discussed the need to set up a new department, and to add field analysts to track the condition of e-commerce shipments. A couple of other respondents said the task would be handled by a full-time person.
Lessons learned The final survey question asked about experiences by those companies already packaging e-commerce orders. A Southeastern food company representative said "box size and box inserts" were important so that "food is properly packed to avoid shipping damage and spilling or leaking of sauce." An employee of a Western Canadian nutrients producer noted that "the more rigid the finished package, the better. Less loss equals greater repeat sales and profits." The respondent from a West Coast food company learned of the "need to possess the right equipment to save everyone a lot of time in fulfilling orders." Another equipment-related lesson came from an employee with a Southeastern organic food producer who recommended "improved labeling." The pharmaceutical representative from India pointed out that his company "has been packaging for pick-and-place operations, which are in many ways similar to e-commerce. The lessons learned are [to use] stronger primary packs; stable, positive lock closure systems to prevent in-transit leaks; and simpler graphics as no shelf appeal is required." A cautionary comment came from the representative with the Western-based producer of sports clothing. He offered this simple advice: "don't over-commit." Considering the volatility that exists in today's online marketplace, the advice could well prove to be a valuable lesson.
Companies in this article