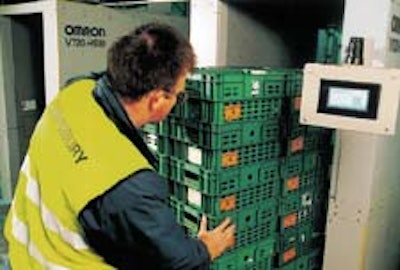 Paint manufacturer ICI Paints and supermarket giant Sainsbury's have more in common than their location in England. Both companies are exploring new technologies to get a better handle on supply chain management. The goal: To remove costs and increase speed to market.
Recently, both ICI and Sainsbury's were gracious enough to host a group of journalists from packaging publications from around the world who gathered in London for a preview of Pakex 2001, the April 2 to 6 show in Birmingham, England, sponsored by Reed Exhibition (Richmond, Surrey, England). Supply chain management is the central theme of the 2001 show, so Reed Exhibition marketing manager Paul Byrom and his colleagues used the Pakex 2001 preview as an opportunity to give the packaging press a glimpse of new supply chain technologies in action.
First on the itinerary was a visit to Tibbett & Britten, a logistics and distribution giant whose London area facility serves as one of Sainsbury's distribution centers. Here, Sainsbury's has just completed a trial on product tracking and tracing that relies on "smart" labels.
Developed by logistics automation specialists Omron Europe BV, represented in the U.S. by Omron Electronics (Schaumburg, IL), these radio frequency identification tags are designed to enable retailers to automatically track every individual item throughout the distribution chain.
Each containing a tiny silicon chip and an antenna, RFID tags are able to send and receive information to and from base stations or portals located at key points throughout the supply chain. The portals forward the information to a central computer controlling the whole distribution process. Armed with this real-time information, logistics managers are automatically updated as packages progress through the distribution chain.
"This is a level of control that is simply impossible to achieve with bar codes, manual data entry or any other system," says Mark Gillott, project leader at Sainsbury's. "And even better is the fact that it is totally automatic, enabling more efficient use of labour resources."
Chilled entrees
Sainsbury's trial involved one pallet load of retail packages of short-shelf-life chilled entrees each day for three months. Currently, these products come to Tibbett & Britten from processors prepacked and loaded into reusable plastic crates that hold about six packages each. When the load arrives, a worker has to count the crates manually to check the actual delivery against the shipping manifest provided by the food processor.
Later that evening, workers are given order-picking forms that indicate the needs of individual stores. Each store's order is picked and palletized, the retail packs still in the plastic crates. Early the next morning, the pallets are loaded onto trucks for that morning's delivery.
In Sainsbury's recent RFID trial, workers at Tibbet & Britten applied an RFID label to each crate as it was moved from the incoming pallet and onto a wheeled dolly. Using hand-held devices, workers "wrote to" the tags both product ID and a sell-by date. When a dolly was loaded, it was wheeled through what's called a Goods Inward portal, which instantly read all the data on the labels and downloaded it to Sainsbury's central computer. Dollies were then wheeled to refrigerated storage until order picking.
Products logged out, too
When orders were received at the warehouse, workers assembled them on dollies. Before loading into trucks, the dollies were again rolled through a scanning portal, this time the Goods Outward portal, so the central computer was instantly updated on product whereabouts and inventory status.
"After analysis of the trial, which ran May through July, a recommendation was made to proceed with system-wide implementation," reports Sainsbury's Clive Franklin, who worked closely with project leader Gillott on the trial. This means that food processors supplying Sainsbury's will apply RFID tags to the reusable crates that don't already have them, and add product identification and sell-by date to the tags. At Tibbett & Britten or another distribution center for the chain, the task of manually counting incoming packages and recording that data on a clipboard will become a thing of the past. "A two-hour process of counting will be reduced to the minute or two it takes to wheel a dolly through a portal," Franklin says.
No specific timetable for implementation is available, but Gillott says the cost savings and efficiency gains at the distribution centers alone would justify wide implementation. "Rolling out RFID smart labels to the whole distribution chain, from supplier to distribution center to supermarket, will [greatly improve] the performance of supermarket supply," he says.
Supplier Omron sees labeling the crates as only the beginning. What keeps the labels from even wider use is the cost, about 70 pence (US$ 1.02). When the cost of individual labels comes down, Omron expects to see them used on primary packages. The day may even come, dreams Steve Coffey, Omron's European marketing manager for RFID, when consumers could roll a shopping cart of RFID-labeled goods through a portal reader and automatically have their bank account debited for the cost.
Digital asset management
A less futuristic, yet still promising, speed-to-market system is the digital asset management technology that's about to be implemented at ICI Paints. Packaging journalists who attended the Pakex 2001 preview toured ICI's Slough, England, plant to see what digital asset management is about.
Called Virtual Gateway™, the Web-based management system was developed by The Springfield Group, a Fort Dearborn Co. (Niles, IL). It will permit secure access on-line to all of ICI's package graphics by anyone in the company who has the password. ICI supply manager Richard Wilding is excited about this new tool.
"My job is to make sure that cans and labels are available to our filling lines on time," says Wilding. "So anything we can do to shorten the time it takes to get them there is important to me. Virtual Gateway will help immensely, and it will have benefits from a number of angles."
One example, says Wilding, is in securing the necessary approvals for a new package design. When the proposed image is available to all who need it simultaneously, sign-offs can be obtained much more rapidly.
Another example is in generating advance promotional material when a new product is introduced or a package is redesigned.
"Our sales and marketing people have to show retailers what a new can will look like long before the can is ever produced," says Wilding. "This new tool will allow us to show not only the can itself, but also the cans on display in a store setting. But it will all be on a computer screen instead of being a mockup. We used to spend a huge amount of money on mockups, and they took time to develop. When people in sales and marketing saw how much more quickly and economically this could be handled with Virtual Gateway, all they could say was 'Wow!'"
Even customer service representatives fielding inquiries will be better equipped. Today, if a consumer calls with a question about the copy on a paint can, ICI reps can't always have the same label copy at their fingertips, because ICI packages something like a thousand different SKUs. With access to Virtual Gateway, any package graphic can appear on their PC while talking to a consumer about what it says. And they can be confident that they're looking at the most up-to-date version.
Operators on the packaging line stand to benefit, too. "We plan to have a PC at the filling line so an operator could log on and search for the product he's about to fill," says Wilding. "Right away he'd see the can or label, the lid and the color swatch. So he'd know visually if he has the right packaging materials or not. It's just one more way of preventing costly mistakes or rework."
After a thorough evaluation of the Virtual Gateway system, ICI recently committed to implementation by the end of the year.
"We're very excited," says Wilding. "The closer we get to implementation, the more powerful a tool it appears to be."
Companies in this article