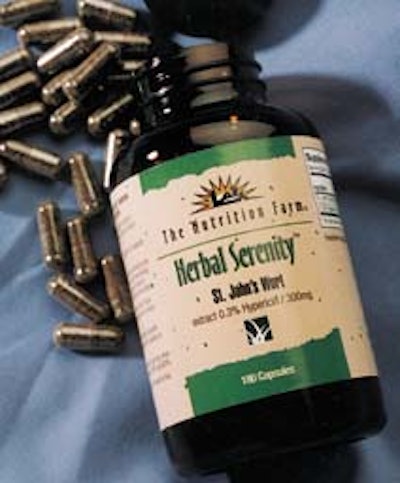 Dietary supplement manufacturers will have greater freedom to make disease prevention claims on their product labels as a result of the rule the U.S. Food & Drug Administration issued in January. But initial press accounts that portrayed the new rule as a major victory for the industry were a bit over the top.
While FDA appears to be offering companies some leeway, there is enough "gray" in the rule to make it a candidate for Grecian Formula.
Annette Dickinson, vice president of scientific and regulatory affairs at the Council for Responsible Nutrition, says FDA made some improvements in the final rule compared to the proposed rule, which came out in April 1998. But the agency took at least one major step backwards. It also threw in a "bombshell."
The final rule issued on Jan. 6 distinguishes between "function/structure" claims and "disease" claims. The former are allowed without any FDA prior approval. But labels have to include a disclaimer: "This product is not intended to diagnose, treat, cure or prevent any disease."
The disclaimer, however, is not required on products whose claims are well-recognized in scientific literature, such as "Vitamin C builds strong bones."
Disease claims are a different story. If a company wants to make a disease claim such as "protective against the risk of the development of cancer," it must obtain FDA approval. To secure that approval, the company has to show that the disease claim is backed by "significant scientific agreement" among qualified experts and that the claim is supported by the totality of publicly available scientific evidence.
Marketing tools
Manufacturers of dietary supplements would much prefer to make disease claims because they are more potent marketing tools than function/structure claims. The final rule does give them more wiggle room here. Currently, FDA uses a "disease" definition developed in 1993 as an outgrowth of the Nutrition Labeling and Education Act. A key aspect of that definition is that for a condition to be considered a disease there has to be "damage to an organ, part, structure or system of the body such that it does not function properly. . . or a state of health leading to such dysfunctioning. . ." In essence, the definition restricts the number of conditions FDA considers diseases, allowing supplement companies to make function/structure claims for conditions that others might have considered diseases.
But some medical groups argued that the "damage" requirement could not be met by most psychiatric diseases like depression and schizophrenia, and the early stages of certain metabolic disease, including diabetes, and genetic diseases. The 1998 proposed rule took into account the medical profession's complaint. It proposed to revise the 1993 definition so that a disease was "any deviation from, impairment of, or interruption of the normal structure or function of any part, organ, or system. . . that is manifested by a characteristic set of one or more signs or symptoms..."
The industry blew its stack. It argued that under that definition, wrinkles and gray hair would be considered diseases. In the final rule, FDA agreed that the 1993 definition was better and agreed to keep it. Medical groups also complained that the "damage" standard would allow function/structure claims on labels of products designed to help psychiatric and other diseases. In response, FDA said that the part of the 1993 definition that refers to "a state of health leading to such dysfunctioning" would give it enough leverage to crack down on supplements that make unapproved claims about treating depression, schizophrenia and other diseases where no physical damage is obvious.
But while FDA kept its 1993 definition of disease, heartening the supplement industry, at the same time it rejected the industry's entreaty to characterize "implied" disease claims as function/structure claims and thus allow them without prior approval. Examples of these are claims that a product "relieves crushing chest pain" or "prevents bone fragility in women." FDA decided that the only difference between implied and express claims is a semantic one "that has little, if any, practical meaning to consumers." So implied claims will be considered disease claims.
What about graphics?
Some label art and graphics will also be considered as unallowable disease claims. In most cases, the picture of a healthy organ on the product label will not be considered a disease claim. Ah, but what about a picture of a healthy heart? There, FDA says the heart symbol has become so closely affiliated with the notion of heart disease treatment and prevention that it would consider a heart graphic on the label as being a disease claim. Ditto for a graphic of a favorable EKG.
FDA estimates that about 830 dietary supplements will have to change their labeling, eliminating a disease claim and substituting a function/structure claim. The cost is estimated to be $3.73 million.
Many of these changes will be for cholesterol-reduction products due to a couple of FDA decisions. First, a label statement will be considered a disease claim if it explicitly or implicitly claims an effect on one or more "signs or symptoms" associated with a particular disease. One example is copy that reads, "lowers cholesterol."
Second, the agency also decided to categorize statements such as "helps maintain a healthy cholesterol" as a disease claim. Its reasoning was that "healthy cholesterol" is now frequently used to refer to high-density lipoproteins, a specific cholesterol fraction that is considered beneficial. The agency will allow, as a function/structure claim, "helps to maintain cholesterol levels that are already within the normal range."
FDA assumes most of the cost to the industry from complying with the final rule will come from label changes to cholesterol references. But Dickinson explains that FDA did not figure into its economic impact estimate the "bombshell" change it authorized. That change requires all products that make function/structure claims to include the disclaimer that "This product is not intended to diagnose, treat, cure or prevent any disease." FDA says it understands that it said in 1997 that some claims—i.e., "Vitamin C helps build strong bones"—didn't need the disclaimer. But the agency revoked that policy.
This could catch many companies unawares. Don Jessup, president of Nutrition Farm, Campton, KY, says he has omitted the disclaimer on his anti-oxidant product called Polyantox. The label has made a function/structure claim that "anti-oxidants help control free radicals that affect aging and illness." Jessup did not know about the FDA decision to require disclaimers on all products until contacted by Packaging World. He says he will have to change that label, and others.
The compliance deadline for that new policy on disclaimers is the same as for all the other provisions: Aug. 7, 2001, for small businesses, Feb. 7, 2001, for everyone else.