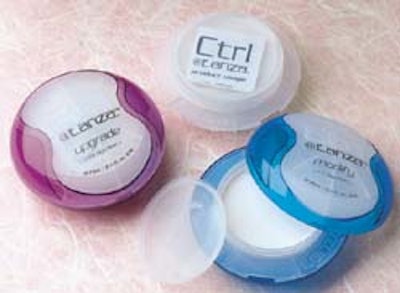 Colorful containers for the L'anza™ line of styling aids seek to do for hair styling products what Apple's iMac did for computers: utilize an unusual, conversation-starting package to get a product noticed. In Ctrl's case, the product was noticed in particular by judges at the National Assn. of Container Distributors (Philadelphia, PA), which named the package this year's "Best of Show."
Designed in-house by Robert Yamada, artistic director at Azusa, CA-based L'anza Research Intl., the Ctrl packaging concept was made a reality by TricorBraun (St. Louis, MO). The company worked out the logistics of Yamada's design and created a blueprint for manufacturing the injection-molded, six-component container. Ctrl products range from light gels for style and shine, to strong gels that include a "UV brightener," which glows either green or white under the black light of a nightclub.
Product is nestled inside a one-piece, natural-colored polypropylene jar with a flat disc made of the same material. A flat flange surrounding the jar's threads is debossed with the L'anza name. Supporting the flange are six ribs, onto which a colored styrene acrylonitrile "shell" is snap-fitted. The six shell colors—blue, lime, pink, red, orange and purple—correspond to particular product formulas. A notch in the jar's flange allows the SAN shell to be removed and a refill jar (called "reboot") to be snapped in.
So much for the bottom half. The top half consists of three pieces, according to Jeff Davidson, former vice president of operations at L'anza. A dome-shaped, frosted natural-colored PP frame with eight ribs houses an 89-mm clear PP stock cap, which is press-fitted into the dome portion. Another colored SAN shell snaps over the PP, framing product identification in an hourglass shape. All product components are injection-molded by Cosmetic Specialties, Inc. (Oxnard, CA).
In the middle of the hourglass outline, CSI debosses the Ctrl brand name and a "smiley face" that consists of an equal sign, a semi-colon, a hyphen and a parenthesis [ =;-) ]. (Often used in e-mails, these "emoticons" are read sideways and help convey emotion and tone.) The company also pad-prints remaining product information in gray ink below the Ctrl brand name. To use the Ctrl products, consumers simply unscrew the top portion of the package, remove the product pamphlet, lift the sealing disk by its pull tab, and dip in.
Computeresque style
The most immediate and obvious connection between computers and Ctrl's packaging is how much the transparent, color-infused packages look and feel like Apple's iMac mouse.
"Obviously the concept was influenced by the design of the iMac mouse," says Steven Dwyer, director of shows and public relations for L'anza. According to Dwyer, L'anza created the Ctrl line with a strong computer theme in mind, knowing that computers were the strongest common bond shared by the vast target market, which is essentially anyone from 6 to 60.
"With that in mind, we were working with a strong computer theme for the names of the products, what the products would do, and so on. And it was just a natural progression with the design once we saw the iMac mouse," Dwyer explains. From product names like "soft_ware," "modify" and "upgrade" to the brightly colored mouse-like exterior of the package, Ctrl seeks to create a plugged-in, computer-speak identity. "The purpose of the design is to be very eye-catching and colorful," Dwyer notes.
Davidson also points out that L'anza communicated with Apple regarding the package design to head off encroachment issues.
Going online
On the market since July '99, Ctrl went from concept to launch in just 126 days, according to Davidson. After taking the design concept to an engineering level, TricorBraun coordinated manufacturing of the package components with CSI. In addition to manufacturing and pad-printing, CSI completes some of the preliminary assembly of the components. That assembly includes snapping colored parts onto their PP counterparts on a machine CSI built for the application. Components are then shipped to L'anza's Azusa, CA, plant for filling.
At L'anza, a Label-Aire (Fullerton, CA) labeler applies pressure-sensitive clear polystyrene labels to the bottoms of jars; West Coast Labels (Placentia, CA) prints the labels with product information in one color. The threaded PP jars are hand-fed onto a line where they're filled with 2 1/2-oz of product on automatic equipment. Filled jars are manually topped with sealing discs and product literature, then hand-capped. Once packed into display cases or open-stock cases, Ctrl products are shipped to beauty salons worldwide where they retail for $13.95 to $17.95, depending on the product. The 2 1/2-oz reboots sell for $10.25 to $14.25 and consist of the bottom jar portion of a Ctrl package, plus a regular threaded cap.
In addition to providing a refill option, the package is recyclable when disassembled and separated into PP and SAN pieces. "Sales have been excellent," Dwyer says. "Consumers love the packaging."
Awarded April 1, the NACD Packaging Awards featured close to 200 innovative package entries in seven categories.
In a hurry? Request more info via Web-based reader service by clicking on the reader service number.
Or you can jump right to their Web site.
Companies in this article