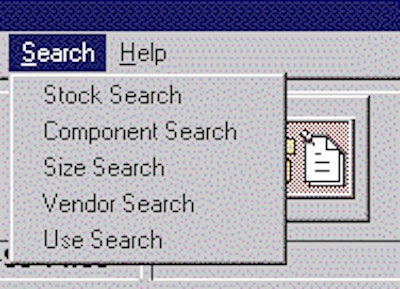 At SmithKline Beecham, packaging specifications on 5ꯠ packaging material components such as bottles, closures, labels and cases are being stored and accessed electronically by designated employees in plants from Pennsylvania to Puerto Rico. The packaging specifications software that permits this storage and access provides only the most current version of a spec. That reduces both errors and exposure to violations of Good Manufacturing Practices issued by the U.S. Food & Drug Administration (see Packaging World, Jan. '99, p. 32 or packworld.com/go/sb).
The software, called NovaManage(TM) from NovaSoft® (Burlington, MA), runs on a server computer at SB's Philadelphia headquarters. Employees in quality assurance and purchasing at SB's four North American plants can access the data on the server from their PCs over the company's wide-area computer network. Other users include the print shop and corporate purchasing and labeling departments. The software's been in widespread use in the company for about two years.
An important benefit to the corporate packaging department is that it spends a great deal less time creating, approving and distributing packaging specs. (For an explanation of the software that automates this process, see PW, Jan. '99, p. 33 or packworld.com/go/sb2). That has enabled the packaging department to:
* Increase productivity by more than 30% for creating, reviewing and disseminating specs.
* Reduce by an average of 70% the time spent on "document transactions"--looking for individual specs, performing searches, answering questions about specs, etc.
* Reduce the administrative cost of creating or editing a packaging spec from an estimated $11 per spec down to $2.
* Free up an estimated aggregate of 21 working days per year spent by each packaging coordinator (support staff) responding to inquiries about spec versions, retrieving and faxing updated versions, etc.
* Handle an increase in workload over the last two years without increasing the number of workers. For example, the number of specs alone has nearly doubled during that time period.
* Spend more time on more "big-picture" packaging issues that affect the company, such as creating universal packaging guidelines to promote standardization of packaging components as new products are commercialized.
Management made easy
Though the software was purchased mainly to reduce exposure to compliance violations, the company has found that the software actually makes it easier to manage the four plants' combined packaging specs. Because the specs are computerized, tasks like conducting searches and creating lists of components based on product, plant or component type now take minutes versus hours or days. Indeed, in the past, SB's corporate packaging department had always received such requests but simply didn't have the time to rifle through multiple filing cabinets searching for paper documents.
Today, users can search for packaging components by plant, component type, size, vendor or product. "For example, we had an engineer who wanted a list of all the shipping cases for a particular plant, including sizes, dimensions and so forth," recalls Tom Pack. He's the packaging design development project manager who spearheaded the project to implement the system. "Ten minutes later, he had a printout. To do that manually would have taken one of our people probably an entire day."
Packaging engineers like Gina Butler Galliera, a corporate senior package engineer, also use the system to quickly alter packaging specifications for large numbers of packaging components.
"For example," she says, "on one of our child-resistant closures, a vendor suggested a way to decrease material usage by thirty-five percent and still maintain the necessary performance characteristics. By printing out a list of every closure for every plant, I was able to see where the closure was used, and I changed every spec." (One closure size may have different liners and styles, each combination of which is considered a different spec.)
Under the old system, the changes still would have been made to take advantage of the material savings, but they would have taken about twice as long, she says.
Having all the specs in a central database also makes it much easier to specify standardized packaging components, where possible, for new products. That minimizes packaging component proliferation and increases the economies of scale for existing packaging components.
Plants get involved
The software also makes it feasible for plants to participate in the spec approval process. "They like to be part of the process because they use the documents," says Pack. The benefit: errors are caught earlier in the process. "We began to realize that the more eyes we had looking at the documents, the better our documents became," says Pack.
Butler Galliera recalls an instance: "A purchasing agent in our Puerto Rico plant with access to the system called and asked, 'Gina, did you notice that this drawing is outdated for a cap? Can you update that for me?'" She can then make the change quickly in Philadelphia, route the document electronically to another packaging engineer for review, and the change is automatically implemented. The corporate packaging department, as the ultimate approver of all changes, still retains final control over changes to specs.
In the paper-based system of the past, it was too cumbersome to include plants in the review process.
Some departments actually can initiate minor changes to specs on their own. The corporate print shop is an example.
"We'll get requests for changes to specs from a lot of different people, in regulatory, labeling, the plants, purchasing, the print shop, et cetera," says Pack. "Before, we'd get a phone call from them. Now, for example, we'll let our print shop in Tennessee initiate changes to specs for labels and leaflets, and then we'll review those changes on the system and approve them. Before, we had to do everything here."
The system also makes it easier to call up related documents. For example, when a user calls up a spec, it's only a few additional mouse clicks to call up a related drawing. That's a crucial benefit, says Pack. "In the old days we'd have certain documents in a word processor on someone's hard drive, we'd have other documents in a file cabinet in a work room. And even though those documents had logical relationships to one another, they physically resided in different places within the company.
"I think this is just the tip of the iceberg," concludes Pack. "This is such a document-driven business, and we spend so much time on documentation. But the software is not just a place to store documents for people to view and print. We now consider it to be an information management system."
Companies in this article