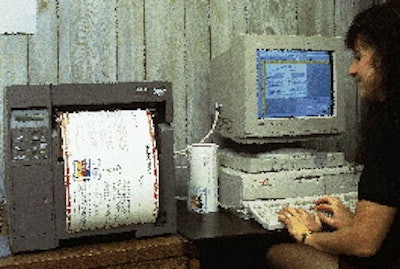 At Witco's Brooklyn, NY, plant, most products require a pressure-sensitive label that displays a wide variety of cautionary information to conform to a variety of regulations.
"If a container is unlabeled, or if the label is no longer legible, there are several state and federal laws that would come into effect," cautions Ken Blair, Witco's manager of regulatory affairs. "If the label is on a container stored at Witco, it would be our problem. But if our customers have the poorly identified product, they would be in violation of law."
The answer for Witco was a new label printing process from Avery Dennison Printer Systems (Philadelphia, PA). Witco switched from a dot-matrix impact printing system to a DataMax (Orlando, FL) wide-web thermal-transfer printer, driven by Avery Dennison Tag & Label software. Not only does the new label printing last longer, but Witco also enjoys many other benefits. The new printer virtually eliminates label waste that was a problem with its previous printer. That's especially costly when even the smallest drum labels measure 8" x 10". But the software program is easier to use, and the printer is so quiet, it's now used inside the office. The previous printer was so noisy it had to be operated in the plant.
Some labels require cautions
The plant, part of Witco's Polymers Chemical Group, ships 2.5 million lb of additives each month to plastics processors in the U.S., Canada and Mexico. These additives are packed in several sizes of containers, from 5 gal to over 200 gal, including fiber and steel drums. About 5ꯠ containers are shipped each month, and each requires a label that contains critical product identification.
Containers for the U.S. and Canada employ a single label, although the Canadian version does require copy in both English and French. Drums bound for Mexico have two labels, one in English, one in Spanish. All labels are purchased from Avery Dennison in rolls that are preprinted flexo in four colors with the Witco logo and other fixed information.
In-house, these roll labels feed the new printer, which adds all the variable information, including lot and container number, a series of cautionary messages, a Chemical Abstract Service (CAS) number and entries for a preprinted Workplace Hazardous Materials Identification System (WHMIS) pictogram.
The CAS number references the product composition and is required for Witco and customers in several eastern states, including PA, NJ and MA. The pictogram, along with appropriate numerical codes, is required by the U.S. Occupational Safety & Health Administration. Pre-applying the pictogram saves customers from having to add them upon receiving the container.
"From a reliability and safety viewpoint, you need this information," says Jay Rogers, Witco technical manager. "If there's ever a problem like leakage, you want people to know how to handle it. So the information is important for people at Witco, for people transporting the containers, and it's important to customers."
Outlived usefulness
Before the change at Witco, labels had been produced on a dot-matrix impact printer using a basic DOS-driven software package that could produce chemical labels. The system was not user-friendly by today's standards, and the printer was also outdated and in need of repair.
"The machine had to be closely monitored because it would eventually drift out of register," Rogers recalls. "Information would begin to run across the perf between labels. Once that started, you could easily print 50 unusable labels that had to be scrapped."
In addition, the printing was not always readable, he says, and breakdowns had become a problem. Although Witco had a back-up dot-matrix printer, it too wasn't reliable. Complicating the situation was the need to guarantee print durability in harsh environments. The company prefers to ship soon after packaging. But in reality, maximizing production runs means some products could be stored outside at Witco for up to six months, sometimes even longer. That meant exposure to heat and cold, rain and ice, but especially intense sunlight.
Exposure to sunlight for extended periods was the undoing of dot-matrix inks: they had a tendency to fade, not only at Witco but at customer locations, too. "This is why we found that using a print media that is more resistant to sunlight and weather is a value-added customer service," points out Witco's Blair.
Software a big help
Before it selected Avery Dennison, Witco's Rogers and Tony Batista, an engineering assistant, evaluated systems from three different vendors. After considering the performance of both the printer and the label-creating software, the Avery Dennison combo was chosen, especially because of its Windows(TM)-based software designed for chemical label production.
In a different way, another software advantage permitted substantial labor savings. "Avery Dennison was the only vendor that said we could transfer data from our existing DOS database right into its Windows database," Rogers says. "As a result, we didn't have to spend time keystroking the data, and this meant we didn't have to worry about errors in re-entering information."
In operation, work orders from corporate headquarters in Greenwich, CT, are sent via wide-area network to the production department's PC, the same Pentium®-based computer that runs the label printer. To initiate a print order, the operator accesses a label order screen via a pull-down menu. Then the necessary data, including lot number, product name and quantity is entered. The software includes a text rotation tool that permits images and text to be rotated a full 360°. Witco uses this feature to print dual-language labels for Canada. The software also accesses a library of common warning symbols, U.S. Dept. of Transportation classifications and other industry-specific information.
Some data automatic
The symbols and text are downloaded into a design template. "The operator can move quickly between the label request screen and various databases," says Batista, who was trained by Avery Dennison's education services department. This is helpful in locating graphic symbols for Canadian labels and Spanish characters for shipments to Mexico.
And the software does its share of the work. Once the product name is entered, the software automatically enters the CAS number or numbers and the appropriate codes for each WHMIS pictogram category. For a chemical like barium stearate, both appropriate CAS numbers will be added, along with a "1" for "slight hazard" in the WHMIS pictogram's Health category and a "0" on the pictogram's reactivity category for "minimal hazard."
For this application, the DataMax DMX-800 has a maximum print speed of 5"/sec at a resolution of 350 dpi. Batista estimates average production of six labels/min, depending on the amount of label copy. It can print common and two-dimensional bar codes and alpha/numeric fonts on a variety of roll label stocks. Unlike the noisy previous printer, the new thermal-transfer machine works right in the office. Thus, labels can travel to the packaging area accompanied by all shipment documents.
Inks stand up
Witco buys labels from Avery Dennison in part because they have a polyolefin finish that offers both tear- and weather-resistance. But equally important to Witco is both the weather- and chemical-resistance of the thermal-transfer print medium. This is the ribbon in the printer that transfers inks from the heated master to the top coated-paper layer.
"Most of the chemicals we pack will not affect a label," Rogers says. "But nothing is resistant to everything. What we needed was a print medium and a label that's resistant to many factors, and that's what this system gives us. "He also points out that the new label stock saves a little compared to the former all-paper labels.
"Pin-printer ink is nowhere near as durable as the thermal-transfer material," emphasizes Rogers, "in part because it's not a true black color. Some labels printed by dot matrix were barely legible after being stored outside for six months. The new label copy lasts longer.
"If you walk through our storage yard, all the labels now appear equally bright and legible. And some of the thermal-transfer labels have been out there for more than a year without fading." That just happens to represent the length of time Witco has used the new printer. Thus far, Rogers reports, there have been no customer complaints regarding labels since Witco began shipping containers with the new labels.
Companies in this article