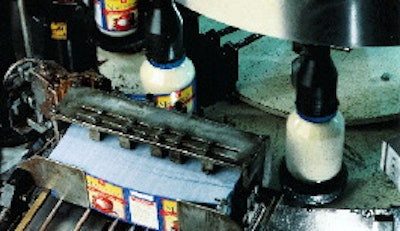 Established as a small creamery almost 100 years ago, contract packager Seaforth Creamery has grown to become a producer of salad dressings, mayonnaise and margarine under more than 30 private label brands. Because of this variety, packaging--in Seaforth's case, labeling--is vital to the success of these products as they contend against major brands. Ironically, labeling was precisely the problem this Oakville, Ontario, Canada-based company was having with its production line.
Seaforth fills products into glass and plastic bottles and jars ranging in size from 475 mL to 4 L. These containers use five sizes of wraparound labels, ranging from 2" x 8" to almost 8" x 16", larger sizes being used for foodservice applications. On any given day, the company changes labels at least 10 times.
To accommodate this need for versatility, Seaforth purchased a P.E. Futura rotary labeler from B&J Machinery (Cincinnati, OH), already equipped with a hot melt wheel system from Nordson (Duluth, GA). Recently, Seaforth upgraded to a noncirculating hot melt extrusion system.
"The old system operated like a cold glue system," says Tom Turner, maintenance supervisor for Seaforth. In this type of system, hot melt is pumped continuously to vertical rollers and applied to upright bottles for label pick-up and "lap application," where additional hot melt is applied at the trailing end of the label. Glue not used is recirculated back to the melting pot.
"The problem was," continues Turner, "that if you get charring it goes back into the melting pot, too." This caused filters to clog. "Or if the label would get caught [at the dispensing station], the glue would run all over the machine before the operator could get to it." That wasted hot melt adhesive.
Rollers would also become tacky from constant contact with hot melt, often causing bottles and labels to be misaligned, or bottles to have excess glue on them. Tacky rollers could displace bottles off their pedestals. All these factors combined to yield the same results: increased rejects and two to three hours of downtime daily.
"We had to wear protective gloves and use special equipment," Turner says. "The cleanup crew would come in and they basically had to soak down the machine to dissolve the glue and clean up everything." In addition, cleanup had to occur within a small window of time--before the glue cooled and parts became affixed to the equipment.
Says Turner, "Between the wear and tear, replacement of parts and the charring of the glue, [we thought] there has to be something else out there."
The big cleanup
Because a Nordson unit was already in place, Seaforth called its local Nordson Canada representative for help. Nordson converted the wheel applicator to the noncirculating hot melt extrusion method using a Nordson® Series 3000 system. Hot melt, supplied by Nacan Products (Brampton, Ontario, Canada), is pumped through hoses where it waits in two CF-201 Controlled Fiberization(TM) guns, supplied as part of the Nordson system.
Bottles pass a photoeye mechanism that signals the guns to spray hot melt onto the bottle as it rotates to pick up the wraparound label. To handle the lap operation, Nordson installed a custom H-201 slot nozzle gun to apply a 2- to 3-mil layer of adhesive to the trailing end of the label.
Because it's noncirculating, charring is no longer an issue. And because there's no contact with the label, label jams and displaced bottles are minimized.
"Our downtime [due to the hot melt system] is basically zero with the new system," says Turner. Cleanup takes only 10 to 15 minutes. Rejects are down by 50%.
Another benefit of the new system is that adhesive consumption is down 75%. Seaforth had been using one 20-kg box of adhesive daily. Now it consumes one box per week. In part, that's due to the patented Controlled Fiberization process of the Nordson guns, which allows precise control over the amount of hot melt sprayed. Air jets draw hot melt into a single fiber, forming a spiral pattern that can be held as close as 3 mm (0.1") from the label edge without the risk of overspray.
In addition, these guns provide horizontal as well as vertical and rotational movement to help accommodate different label sizes. With its melt rate of 18.1 kg/hour, the application keeps up with labeler speeds of 100 to 120 bottles/min.
Overall, says Turner, "compared to the old system, this has been a godsend...what we had to put up with, between the mess, the hazards, the cleaning of the system, the charring and waste of the glue...Now we fill up the glue and away it goes."
Companies in this article
Videos from Nordson Corporation