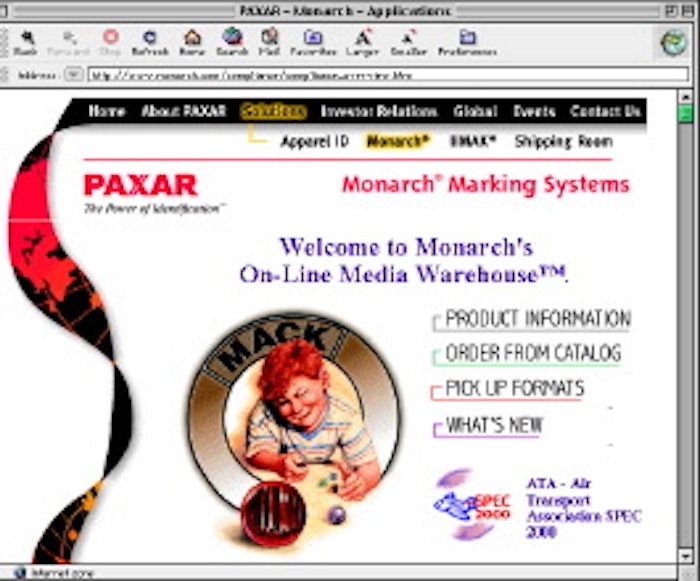 Thus, manufacturers and distributors must spend a great deal of time tinkering with their label design software to provide the format required by retailers. Before new vendors start shipping product, it's not unusual for them to fax sample labels back and forth until they receive retailer approval.
Enter the Online Media Warehouse (www.monarch.com/compliance/compliance_overview. htm) from Monarch Marking Systems (Miamisburg, OH), a Paxar Corp. (White Plains, NY) subsidiary. This subscription-only Web site, or extranet, allows manufacturers and distributors that print and apply retailer-compliant labels to simply download pre-approved label formats for about 25 major retailers. Users just load them into their labeling software package and start printing. The site includes label formats from such retailers as Wal-Mart, Federated, Sears, Target, Montgomery Ward, Sports Authority and Lowe's, and more are being added all the time, says Bob Glavin, director of marketing. The site also notifies subscribers via e-mail when a specific retailer's label specification has changed. Upon receipt of the e-mail, subscribers simply download the updated, pre-approved format from the Web site.
The promise: no worries ever again about fines from retailers due to non-compliant bar-code labels.
"Monarch has sold products to retailers for more than 100 years," explains Glavin. "We have contacts with all the major retailers; we get the label specifications from them and actually get the formats approved ahead of time before we post them to the Web site."
The service costs $150 per year per retailer, or $995 for an annual subscription that grants access to the entire library. The catch is that subscribers have to use Monarch's printers and a labeling software package called Loftware that Monarch resells, though it's available elsewhere. (Loftware works with PCs. Monarch also resells Cybra for IBM AS/400 mid-range computers.) Once users pay the annual fee, they're given a password to access the Online Media Warehouse.
Monarch granted Packaging World access to a demo version of the site for evaluation purposes. To this writer, it was a straightforward site, operating on the shopping basket analogy so popular at many on-line Web shopping sites. It was easy enough to add the desired label formats for a single or multiple retailers to our shopping basket. The site lists several formats for each retailer, for both distribution labels as well as primary product labeling. Once we were done adding formats to our shopping basket, we simply clicked on a button to download the formats to our computer.
Currently, the site has about 100 users, according to Monarch. A recent user is Apple Dorson Sports in Ronkonkoma, NY, a wholesale distributor of golf accessories and golf footware to retailers like Kmart, Wal-Mart and Sports Authority. While it doesn't manufacture products, the firm does apply retailer-specific bar-coded labels to the outer shipping cases of products it distributes. The distributor spent about $600 to upgrade to the Loftware software package and $995 for the annual membership granting access to the entire library. Is it worth it?
"Without a doubt," says Mark Gatien, operations manager. "Within our first month it's going to pay for itself by cutting down the amount of time we spend creating or modifying these compliance labels."
In the past, any time the retailer changed its label specs, "We spent anywhere from two to seven hours adjusting the label formats," says Gatien. "Whereas now I'm just downloading it, and it's already been approved. So I don't have to fax back and forth to get approvals from the retailers."
Currently, the formats are only available to users of Monarch printers. But Monarch's Glavin hints that such a restriction may not be permanent. "There may be some time in the future when we may decide to expand it to users of other printers," he says. c
Companies in this article