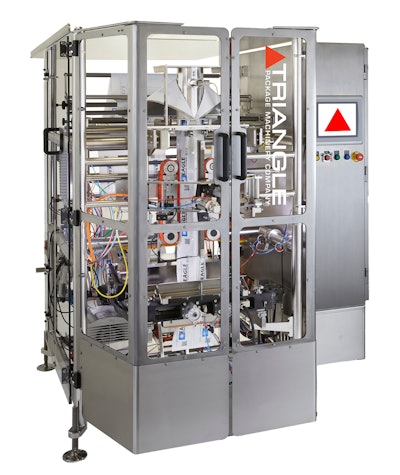 The vf/f/s bagger can run up to 100 bags/min, including pillow, gusseted, flat bottom, and EZ Stand bags. Its rugged, sanitary design features a solid stainless steel frame and a pivoting control box that allows access from all sides, making washdown and maintenance simple and efficient.
Ideal for a wide range of markets, Triangle Package Machinery's Delta intermittent motion bagger can be integrated with a combination weigher, auger, cup filler or liquid pump.
With many end users facing such challenges as a reduced workforce and less skilled operators, the Delta bagging machine includes key features that make operation simple, safe, and consistent, including:
· PLC recipes control sensors and actuators for easy and consistent set-up;
· Optional RFID log-in for controlled access;
· Rockwell Automation CompactLogix PLC;
· Pneumatic valves located for visibility during operation and easy access for maintenance;
· Optional split control box for access to low voltage hardware without disconnecting power;
· Designed and built in the USA.

Companies in this article