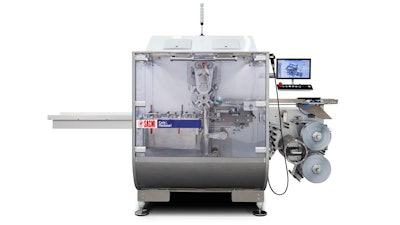 SACMI Packaging & Chocolate, a provider of complete plants for chocolate and turnkey packaging for bakery, biscuits, and other food and non-food applications, exhibited its new wrapping machine, the HY7 CW, a new-generation cut and wrap machine designed to wrap taffy, caramel, and other soft candies in double twist style. Exclusive print registration technology allows logos to be displayed on any spot of the product to enhance brand recognition. Equipped with patented hybrid technology, HY7 CW maximizes the use of electronics to achieve efficiency and quality wrapping, without compromising on speed or the ability to handle a wide range of products.
HY7 CW has a compact and hygienic design to meet international standards. The company said its new-concept, servo-driven units can be fine-adjusted to ensure top quality with most wrapping materials, including eco-friendly films.
"This unit is part of our new hybrid 7 line, where we combine mechanical drive and servo motors. It's easy to clean, easy to use, and provides high wrapping quality," said Bernard Cantwell, CM-FIMA wrapping program sales manager, North America, SACMI Packaging and Chocolate.
With a reduced cinematic chain, the HY7 CW contains 40% less components and, therefore, requires fewer spare parts. It also offers easy remote monitoring and connectivity to in-house data collection systems.
The machine includes a user-friendly, touchscreen HMI for ease of operation and to reduce the need for mechanical adjustments inside the HY7 CW, therefore cutting downtime.
Companies in this article