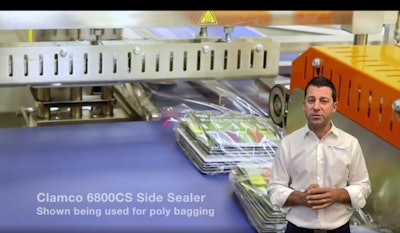 PAC Machinery used PACK EXPO Connects to demonstrate its shrink wrap capabilities, particularly via its entire line of Clamco sealers. The range of shrink wrap systems—both manual and automatic sealers, and an ensuing heat tunnel—covers the gamut of applications. But during the demo, the most sophisticated amongst them garnered most of the questions and engagement with attendees.
That was the Clamco 6800CS automatic side sealer, a highly efficient all-electric side sealer that combines a hot-knife end seal with an adjustable seal and trim knife. The trim knife is actuated when the product moves past the cross seal. Compared to conventional automatic L-bar sealers, the 6800CS can pack products of any length at high speed.
The 6800CS can deliver conveyor speeds up to 100 ft/min (140 ft/min for the 6800CS-XL) and wrap up to 4,200 packs per hour. The system is well-suited for polyolefin or polyethylene center folded shrink film. Packages can be as large as 8-in H x 16-in W on the 6800CS. On the even larger 6800CS-XL version, packages can be as large as 10-in H x 24-in W. Virtually any length is possible on both units.
These systems' film feed is achieved by a film inverter, permitting product to be delivered to the sealer by conveyor. This gives the 6800CS a wide range of product height to width size choices.This can also be automated for variable sizes with the appropriate automation, namely a 3D dimensional sensor on the infeed. Or, they can be used in polybagging operations.
The 6800CS has beginning- and end-product sensors to maintain a consistent bag length around the product. The sensors provide optimum film shrink around the product while traveling through the optional shrink tunnel.
The company says the 6800CS can be set up in minutes, is easy to program, and offers multiple operating modes for performance and convenience. This side sealer does not require compressed air, enabling users to position it anywhere in your production area. Paired with a Clamco heavy duty shrink tunnel, the 6800CS makes an outstanding high production shrink wrapping packaging system.
To view the demo in its entirety (available through March 31, 2021), and add PAC Machinery to your MyConnects Planner, click here.
Companies in this article