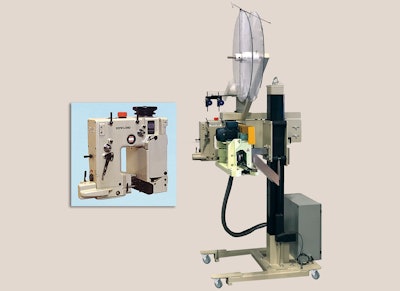 This unit still uses American-Newlong's DS-9C high speed, oil enclosed, sewing head.
With its proven vector drive technology to ensure easy speed matching to conveying systems, the Newlong DS-9C continues to offer maximum speed flexibility and fast start/stop action to reduce waste of material cost with no coast to stop problems experienced by other sewing heads.
The A1-PB-EL fully automatic height adjustable bag closing system is designed for paper, polywoven, jute, or woven cloth bags. This "first of its kind" closing system provides an attractive and consistent finished product and is designed to accommodate both plain sew and crepe-tape bound closures. There are optional add-ons such as automatic infeed device and conveyors.

Companies in this article