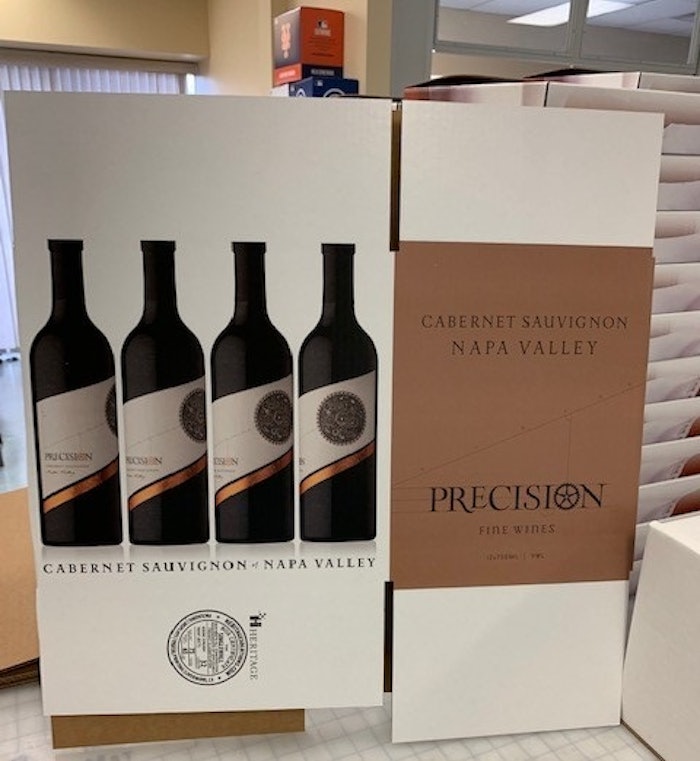 Strategically located in California's wine country, Golden West Packaging Group recently installed an HP PageWide C500 digital corrugated press in its Livermore site. The high-volume, water-based digital solution is delivering new production agility, enabling GWPG to react quickly to fulfill packaging orders for key clientele in the wine and spirits market segment. GWPG also supplies packaging for agriculture and specialty foods, including a wide variety of products that require agility and speed to market.
 "The HP C500 is changing the rules of the game with substantially faster package supply," says Brian Fellows, VP of Sales and Director of Digital at Golden West Packaging Group. "Our customers now have new freedom and the flexibility to do what they want, when they want it."
GWPG supplies a wide range of digitally printed products, including corrugated cases, trays, pallet skirts, case sleeves, headers, and displays to the wine and food industry. GWPG also supplies a wide variety of custom boxes for computers including HP. GWPG supplies the West Coast, Mexico, and far beyond.  
According to Fellows, lead times using the C500 solution can be reduced to 10 working days or fewer, compared to several weeks using traditional methods requiring plates and tooling. In addition, by leveraging their range of digital solutions, GWPG can fulfill orders as small as a quantity of one to millions.
Direct-to-consumer, subscription, and on-line purchases including home delivery, especially for the holiday season, are also driving demand for flexibility in printing that can be fulfilled by digitally printed solutions, notes Fellows. "We don't see how analog methods of printing will be able to keep up with this demand," he said.
The GWPG group includes more than 20 creative and structural designers, making it easy for brands to transition to digital. It offers award-winning, in-house graphic design and structural engineering to help customers develop unique and creative solutions for digital packaging.
GWPG has also achieved G7 certification, which ensures accurate color matching across print platforms and our affiliated businesses. "This allows us the flexibility to react to any customer need," says Fellows. The HP PageWide C500 Press quality is also comparable and interchangeable with any corrugated print method, delivering sharp text and barcodes, smooth tone transitions, and vivid colors.
Don't forget that the Package Printing Pavilion returns once again to PACK EXPO Las Vegas. Go here for details.
The addition of the C500 to GWPG is adding a further benefit for its sustainability-conscious consumers. The C500 uses true water-based HP inks that can be used safely for food applications including without adding another contact layer. HP's water-based inks are odorless and free of UV-reactive chemistries and can comply with even the most stringent global food safety regulations, including Nestlé guidance and Swiss Ordinance.
The 250,000 square foot GWPG site is also 90% solar-powered uses a closed-loop water system so they don't put any wastewater into the local ecosystem. "This especially resonates with eco-conscious wine and food suppliers," according to Fellows.
The HP C500 prints on a wide range of corrugated papers including 100% recycled media.
The addition of the industrial-scale HP PageWide C500 Press builds on Golden West's experience with high-value corrugated display and high-graphic retail packaging production using its fleet of HP Scitex 15500, 11000, and FB700 presses.