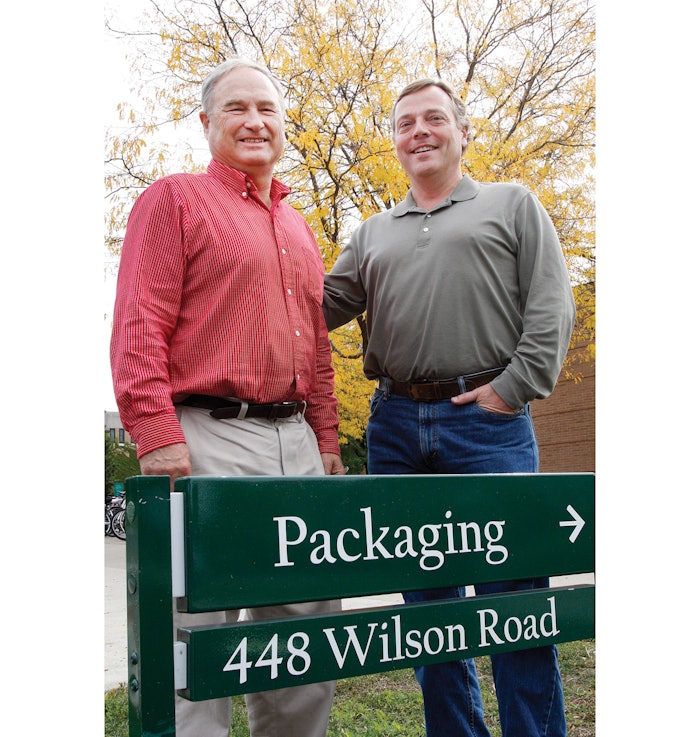 Wagner:
Based on what you see in today's students, how do you feel about the future?

Harte:
I think it looks good. We have a lot of really good students who are good thinkers and have a good work ethic. They're also adaptable and flexible, which I think they'll have to be as they get into their careers. But I do worry about the world they're getting into. What's going to happen with the U.S. economy and world economies? I worry more about that than about the quality of the students.

What do you see as the biggest needs in packaging today?

Two things spring to mind. First, we need packaging professionals who can take more of a systems approach to problems they're trying to solve, beginning with product requirements, design features, production and distribution considerations, and then of course the final placement in the retail outlet. Second, I think there is a big opportunity for packaging professionals to better understand the process as it relates to the final consumer or user. I think we need to base the design and characteristics of the package on all of the elements I mentioned above, but we should emphasize how they interact with and relate to the consumer. I think the consumer needs to be driving the process more. Once the information and insights are understood, we need to understand how to develop packaging solutions or build them into a system that looks at all these other inputs and does it most effectively.

What is the most significant development in packaging in the last 40 years? What changes did it bring?

If we look at food, I think the big-time conversion to plastic containers was huge. If we go way back, 30 years or so, we had a tremendous increase in the availability of different types of resins, many in the high-barrier category. We had advancements in processing and extrusion, the ability to form multi-layered materials, to control the shape of containers, to put product into new kinds of containers. That allowed us to build all kinds of functionality into packaging not previously possible. To me, that really changed the way we did business, because that affected not only the container and the type of container but weight and volume, too. I think plastics have added a lot of value to food products through the years. It's interesting that now we are trying to move back to the single layers to be more sustainable and less costly. But those developments in multiplayer barrier material did bring about a tremendous increase in plastics technology and how it can be applied in food packaging. It was a very substantial change.
Looking forward, what is the most promising packaging development you see emerging today?

One of the things that I really think is going to have a tremendous impact is the whole area of printed electronics on packaging and the ability to interact with smart phones and similar devices. This technology—along with advances in intelligent packaging—could bring a boost in safety and in quality, especially if it reaches a point where the package can tell consumers when products are unsafe or out of date. One day we may even be able to say to a package, "Please dispense two pills for me."

Sustainability and sustainable packaging continue to be topics of interest. What is your perspective and where is it headed?

I think it's important that our approach to sustainable packaging remain as broad as possible. Things like bio-plastics, cost and material reduction, downsizing, reducing the surface area of materials—all these things should be part of the sustainable packaging conversation. It's anything that reduces the energy inputs or material input to deliver products to people in a safe and high-quality manner. It's not just changing from a more traditional material to something that can reduce the cost or reduce the amount of materials that are used. There are a number of perfectly valid approaches to sustainability.

Packaging has taken you to nearly all corners of round globe. Big growth in the developed western world is relatively flat, and leading companies are looking to developing regions. What does this mean for packaging? Do you agree with those who say packaging is bad, that it does nothing but create litter and waste?

To me, packaging is absolutely critical for these countries to develop and improve the health and the quality of life for their people. Packaging protects products. It makes products last longer, and it provides people more food to eat—safely. It keeps the quality of the drugs at a more secure level. So packaging to me is essential for the developing world if they are going to take the next step and move to a higher standard of living for their people. When people talk about packaging being a bad thing for a developing world, or for anyone for that matter, they just don't understand.

The challenge then becomes solid waste, I think. Right?

Yes, the challenge becomes solid waste, or how to re-use that material back into something else. It may be time to explore waste to energy, something that is quite commonplace outside the U.S. It has its challenges, but I think we have a lot of entrepreneurs in some other countries with better know-how when it comes to handling waste to energy if given the opportunity. I think we have to give them credit for their ingenuity. Rather than looking at discarded packaging material as nothing more than solid waste, they look at packaging as a resource to be used in something else. To me, it's a very win-win type of program. It might even lead to an increase in jobs.

What can packaging do to improve the lot of those living in undeveloped countries?

We hear all kinds of numbers about the amount of food that's lost, up to 40% or 50% in some of the developing nations, where food spoils before reaching the consumer. Even in developed countries, too much food spoils in our refrigerators before we use it. So one of packaging's main roles is to help preserve food products. Maybe it's by providing container systems that reduce the physical damage, maybe it's preventing infestation or keeping rodents from getting into food products, or maybe it's just delivering the shelf-life that the market wants. That's what packaging does. So the quality maintenance, the security that is to prevent people from getting into food products and causing harm to others, or the elimination of counterfeit type foods—all of these are related to the properties of packaging. Its role in reducing hunger is maybe as important as the act of producing the food in the first place. It simply doesn't make sense to me that for every two pounds of food that you produce, you can lose upwards of a pound or half a pound of that product. So packaging and supply chain, together, can really reduce a lot of that lost product. People in countries that demonize packaging are causing a lot of harm to their citizens, and they are going to do a great deal of damage to people simply because they have a false idea of what packaging does.

We just experienced an outstanding Pack Expo in Chicago. How do you account for the strength of the Pack Expo shows in an era that has seen the demise of many once-powerful trade shows?

Clearly, Pack Expo adds value. People that attend get something out of it, not just buyer and seller but also people who simply want to learn more. Because in addition to the learning opportunities at the exhibition itself, there are conferences and other programs where a lot can be learned. It's all about providing value. And, as functional as the Internet has become, people don't want that to be their only chance to engage with packaging. Packaging is still a high-touch experience, a unique combination of art and science that people want to engage with in a hands-on way.

You were recognized this past June by the International Association of Packaging Research Institutes for lifetime achievement. But I'd guess that not many packaging professionals know what IAPRI does. What's your sense of its role?

It's expanded from being principally a European organization to being one that includes North America and other parts of the world. Also, more top-notch universities are involved. What IAPRI has created is a global network that lets small institutions work cooperatively with other larger research institutions around the world. So its ability to share packaging information and develop relationships among people around the world—these are the things IAPRI provides. In addition, some of the member groups of IAPRI are now doing some excellent research. That was clearly evident at the last conference, which was held at Cal Poly. This application-driven research will lead to rapid improvements in technologies that benefit a wide range of consumers.

What do you see as the biggest needs in packaging education going forward?

We must continually polish our methods of keeping students up to date on emerging technologies. We also have to help develop critical thinkers as opposed to people who pull content verbatim from some Internet source. Integrating, analyzing, and synthesizing solutions from a multitude of sources—that's what a critical thinker does. And let's not forget about our laboratories. I am concerned that as times get tough and money gets scarce, more and more packaging programs will eliminate their laboratories. But it's the lab that teaches you how to collect and process data, and without data, how do you make good decisions? Finally, I think we may have to put more emphasis on good writing and communication skills. Indecipherable texts and an occasional email are not going to suffice in the workplace.

Should packaging professionals around the world unite on and address harmonization across borders?

Harmonization to me is a two-edged sword. I know it can improve the efficiency of delivery of goods, but it can also decrease the creativity that to me is very important when it comes to developing new packages, new products, new designs, and new systems. The danger is that it can lead to an excessively static environment. So in places where it makes sense—standardized pallet sizes or commonly recognized frequencies for RFID tags—fine, let's harmonize. Or perhaps in the sustainable packaging realm there are opportunities for harmonization. But if we look at harmonizing everything, soon everything looks the same. To me that would be a huge loss.

How do we get more people at the C level in today's consumer packaged goods companies to recognize how positive an impact packaging can have on the bottom line?

Getting more packaging people into higher positions of authority in the packaged goods companies would be a start. I've worked with a number of such companies over the years, though I'd better not mention any names or I'll find myself in trouble, and I'm surprised at how many do not understand the importance of packaging relative to profitability. Too many people still believe packaging is just a cost and not a value, and I think maybe we need to get more people in the higher levels within companies to see that packaging is actually a strategic asset. Just look at the new-product developments that have been most successful in recent years, and what you'll quickly see is how many of them are driven by packaging innovation.

Thank you, Bruce. Anything else you want to comment on, in general?

Only to say how fortunate I've been to work in packaging all these years. It's been a blast.
Brian Wagner (brian@ptisglobal.com) is vice president of Packaging Technology Integrated Solutions (PTIS), a division of HAVI Global Solutions Direct, LLC. He is a graduate of the MSU School of Packaging and counted Bruce Harte among his instructors there.