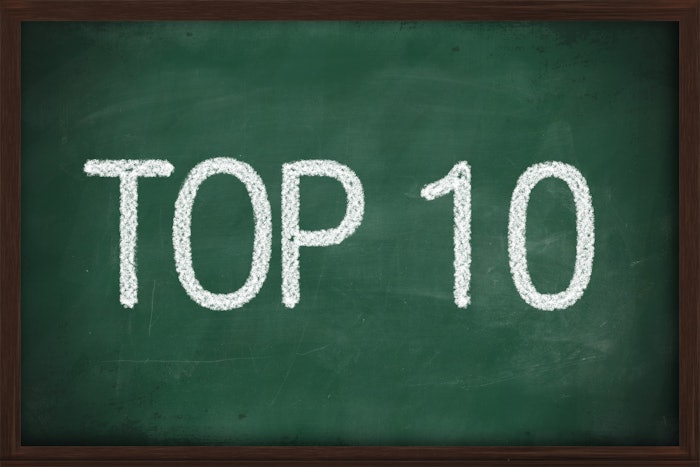 In the annual GreenerPackage.com list of the Top 10 articles read over the previous year, we find that no one theme dominated 2016. Readers perused stories on a number of topics, including recycling, bioplastics, source reduction, and renewable materials. As is often said in sustainable packaging circles, there is more than one path to reducing the environmental footprint of a package.
10. Video: Meal-kit company debuts first 100% recyclable and compostable packaging
San Francisco-based Sun Basket aims to divert more than 5 million pounds of waste from municipal landfills in the first year of using new recyclable, compostable packaging.
9. Consumers turn to brands for direction on recycling
New research reveals that on-pack messaging continues to play an important role in driving recycling.
8. Breakthrough multipack concept makes its debut
First to commercialize a novel multipacking concept based on nothing more than small dots of glue and a carry handle is Danone with four-packs of 1.25-L PET bottles of Evian Prestige water.
7. Four trends to shape industrial packaging market through 2020
A new study identifies four key trends that will shape the industrial packaging market over the next four years: the 3Rs, downgauging, pack shape optimization, and safety.
6. Walmart reignites 'passion around packaging'
Walmart unveils a Sustainable Packaging Playbook for its suppliers with best practices highlighting three directives: source sustainably, optimize design, and support recycling.
5. Reduce, reuse, recycle is the theme for GreenerPackage.com's top 10 of 2015
Most-read articles center around commercial applications that reduce the use of petroleum-based plastics, the reuse of packaging materials, and recycling.
4. Seventh Generation embraces bioplastics
Its 100-oz HDPE bottle for laundry detergent is now made entirely from recycled materials combined with a drop-in bioplastic made from sugarcane.
3. Birch water branding true to its roots
A paperboard-based can printed to resemble a birch tree pays homage to the product's origins, while helping contribute to the preservation of forests.
2. Can we solve the flexible film recovery puzzle?
Industry groups have begun to explore strategies to develop multilayer flexible film recovery systems. But can they overcome the challenges that exist in every step of the process?
1. The outlook for the green packaging market to 2020
Report indicates the use of bioplastic packaging is gaining importance in regions such as APAC and South America due to increased demand for effective, advanced, and eco-friendly packaging.