Sandi Childs, Director of Film and Flexible Programs at APR, spoke at today's Innovation Stage presentation and said, "The entire supply chain has to work together to increase the supply of plastics available to be recycled, enhance the quality of the material that's expected to go back into the marketplace, and ensure that there's adequate demand for products made from recycled plastics."
Childs also said that "a package doesn't have to be ugly or brown in order to be 'green.' It can still be sexy and functional and lots of fun." To that end the APR has created the APR Design Guide for Plastics Recyclability.
Recyclability is more than just resin numbers, and includes factors such as the polymer, the closure, the label, any inks that are directly printed, barrier layers, or other materials incorporated for product protection. Said Childs, "All of these features can interact with each other and can combine with the polymer to have a fairly significant effect on the recycling process."
The APR has a recyclable classification program, which is met when all of the different features of a package are compatible with recycling, or, in the language of APR, "preferred." These preferred features, according to Childs, include "standard workhorse additives; fully compatible; direct printing is preferred over labels. If a label is going to be used, it should be a polyethylene-compatible labels. And for the widest range of end uses, the color should be a light color, a buff or a white color, for putting the material into more uses."
With flexible packaging, said Childs, recycling compatibility can be a significant challenge because the entire recycling system for these materials is different than it is for rigid containers. There are also challenges in the collection channel, which is based on a store drop-off system, as opposed to a curbside system. Some of the recyclers use washing, some of them don't, and there is no way to tell when a package might go to a recycler that uses a washing system or not.
Childs said another end-use question is that of circularity. "Can we design a system where a flexible package is recycled directly into another flexible package? I know there's a lot of work going on in that area right now, and it's becoming more and more top of mind to get that done," she said.
PVC, PVDC, metal foils, and thick metal labels have a significant negative impact on recyclability, for both sorting and mill filtration. These detrimental features, however, are motivating a lot of innovation. Said Childs, "The metalized layers are getting thinner and thinner, and the metal detectors in the recycling facilities are being modified to not be so much of an issue. Darker colors are called detrimental, but there's also beginning to be a recognition in the industry that those dark colored materials can absorb more post-consumer recycled material."
There are many other materials and technologies that are used in flexible packaging that don't have guidance for yet. Child's said there is currently an APR work group working on nylon and EVOH, and different compatibilizers.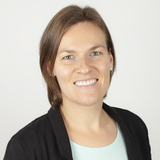 Rebecca Mick, PhD, Technical Sustainability Lead at Amcor Flexibles North America
Childs was also joined by Rebecca Mick, PhD, Technical Sustainability Lead at Amcor Flexibles North America. Amcor has been active in testing and developing guidance, and has received acknowledgement for sustainable design from APR. Mick said Amcor's AmPrima PE Plus received APR's Responsible Innovation Acknowledgement, recognized as a groundbreaking package that doesn't impede mechanical recycling. The How2Recycle label also granted AmPrima PE Plus a prequalification for its store drop-off label for a variety of barrier and non-barrier specs, which allows Amcor's customers to avoid having to test these films to get the store drop off label.
The next step, said Mick, will be to test the film against the newly released APR critical guidance protocol to prove that it is suitable for truly circular film to film recycling.
To see this Innovation Stage presentation in its entirety (available through March 31, 2021), click here. To see more PACK EXPO Connects, click here.
Companies in this article