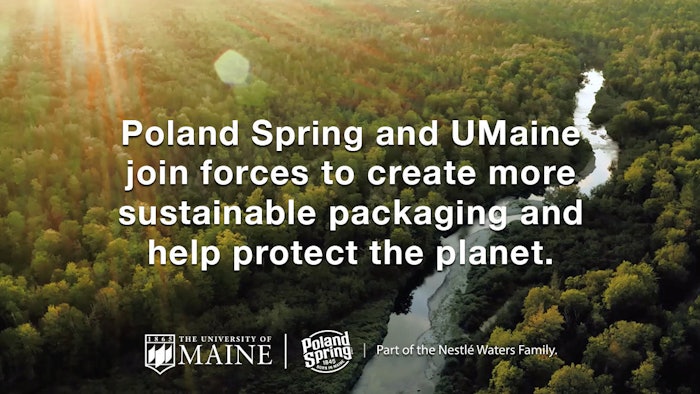 Poland Spring® Brand 100% Natural Spring Water announced a collaboration with the University of Maine and its Forest Bioproducts Research Institute to evaluate and develop bio-based solutions that could serve as alternative packaging for Poland Spring products. As part of the collaboration, the University of Maine will explore new possible uses of materials derived from sustainably harvested Maine wood, an effort that has the potential to advance the circular economy by contributing to the total utilization of this renewable resource.
"UMaine is grateful for Poland Spring's support of our world-leading research, development and commercialization in this area," says Joan Ferrini-Mundy, University of Maine President. "Forestry is a cornerstone of Maine's economy, and the Forest Bioproducts Research Institute was created to provide and promote technology validation and partnerships that will meet societal needs for materials, chemicals and fuels in an economically and ecologically sustainable manner. This collaboration serves that important mission, leveraging the expertise of our faculty and staff, and facilitating the engagement of our students in cutting-edge research with important implications for our state and the wider world."
---
See it Live at PACK EXPO Connects Nov. 9-13: Learn more about GMP-compliant, HP Solvent Ink for Coding and Marking, by HP Inc. Preview the Showroom Here.
---
Poland Spring is initiating this collaboration with the University of Maine to assess biomaterial technologies that could serve as alternatives to petroleum-derived, non-renewable materials. This joint effort evolved after Nestlé Waters North America (NWNA) sponsored a two-day bioplastics summit at the University of Maine in May 2019 that brought together stakeholders representing all sectors of Maine's forest economy to discuss and explore these issues.
"It's great to see one of Maine's strongest brands working with Maine's flagship research university to look at new opportunities that are beneficial to both the environment and the economy of the state," says Heather Johnson, Commissioner of the Maine Department of Economic and Community Development. "Any time Maine's natural resources, the basis of our heritage industries for generations, are looked at with fresh eyes to promote innovation, it is a benefit to the entire state. Maine further secures a position in the global economy, and the industry is given an option that is better for the planet. This a great example of a strong private-public partnership."
---
See it Live at PACK EXPO Connects Nov. 9-13: Versatility of Programmable Encoders, by Encoder Products Company. Preview the Showroom Here.
---
"The University of Maine is pioneering new renewable and sustainable wood-based materials and processes that can be used as an alternative to petroleum-derived products, making them the ideal collaborator as we strive for a low-carbon, waste-free future," adds David Tulauskas, VP and Chief Sustainability Officer, Nestlé Waters North America, parent company of Poland Spring. "Their innovative work is already showing how a Maine-based circular economy is possible, and this project will identify additional potential uses for the state's wood fiber byproducts as sustainable packaging or other products. We look forward to the potential innovative advances in packaging and other sustainability areas that may be enhanced and discovered through this collaboration benefitting the environment, the forest industry and the great state of Maine."
"The expanded use of forest-based biomass in areas such as packaging, infrastructure, equipment, novel materials and even biofuels is a key development objective for the Maine forest sector, and this initiative between Poland Spring and UMaine is a great start," says Patrick Strauch, Executive Director of the Maine Forest Products Council. "Diversifying the uses of Maine-harvested biomass is essential to the growth and sustainability of our state's forest economy. UMaine is a longstanding partner in these efforts and we look forward to continuing to collaborate with them on this project." 
---
See it Live at PACK EXPO Connects Nov. 9-13: Drum 360 Steel Drum Decoration, by Greif. Preview the Showroom Here.
---
In addition to exploring alternative packaging, Poland Spring parent company NWNA has committed to achieve 25% recycled plastic across its U.S. domestic portfolio by 2021 and reach 50% by 2025. As NWNA's most iconic brand, Poland Spring has called Maine home for 175 years and announced it would be the first major bottled water brand in the U.S. to reach 100% recycled plastic across its still water portfolio by 2022. Poland Spring 1-liter, 1.5-liter, 700-mL and 20-ounce bottles are already available in 100% recycled plastic.
Over the last decade, Poland Spring has given more than $9 million to local Maine community organizations, causes and events through its Good Neighbor Grant Program and has donated more than 800,000 bottles a year to fire and rescue departments, non-profits and communities in need. As the state's fifth largest manufacturing employer, Poland Spring proudly employs nearly 900 Mainers across three bottling facilities – Poland, Hollis and Kingfield–plus ReadyRefresh®, the direct-to-consumer home and office delivery teams.