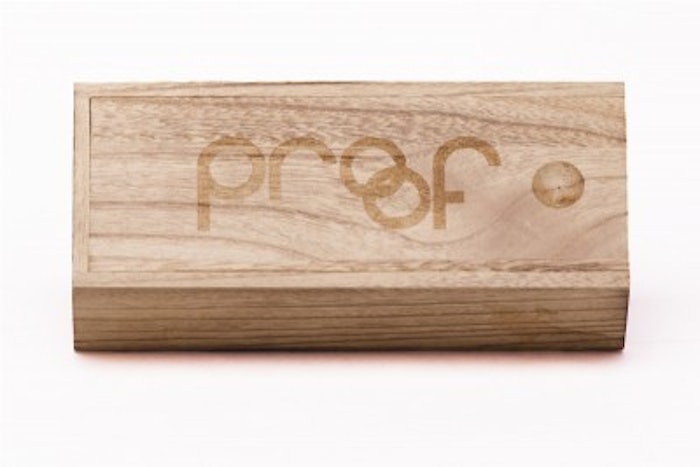 With their roots buried deep in the sawmill industry, three entrepreneurial brothers—Taylor, Brooks, and Tanner Dame—have built a brand and business around a unique application for wood. With the tagline, "Crafted from the Ground Up," Proof Eyewear, of Boise, ID, offers a range of eyewear and accessories handcrafted from eco-friendly materials, such as pure wood, skateboard decks, and plant cellulose. In May 2013, Proof introduced a new eyeglass case for its products that is equally sustainable: a 100% pinewood box with a slide-top design.
"Our packaging is just as important as our product," says COO Tanner Dame. "It showcases the craftsmanship and quality of our sunglasses."
Originally, Proof used 100% recyclable cardboard to package its eyewear, then switched to a metal-latched wooden box. "People liked our packaging, but we had a few small issues with the latch breaking," says Dame. "With time, we realized it could be removed, making the packaging even more eco-friendly, which better fit our brand's mission.
"We also had a few competitors start using our packaging design, so changing it seemed necessary."
The new case is described as simple but functional. A slide-top design makes it easy for consumers to access their glasses without latches or levers. While Tanner designed the box, Creative Director Lance Williams was responsible for creation of the Proof logo and its placement on the top and sides of the box. Inside, the company's tagline is laser-engraved on the bottom of the box.
Says Tanner, "We want the box to be something our consumers are going to keep and use to protect their glasses. It's an item that adds value to the product as well as function and aesthetics to the packaging itself."
The lightweight rectangular case is said to be stackable and easy to store, and fits perfectly into Proof's shipping boxes.
Proof eyewear and accessories are sold in more than 200 retail stores in the U.S. and in another 100 stores internationally—among them Pacsun, Tilly's, Nordstrom, and other surf, skate, and fashion boutiques. Products are also available online at the Proof website.