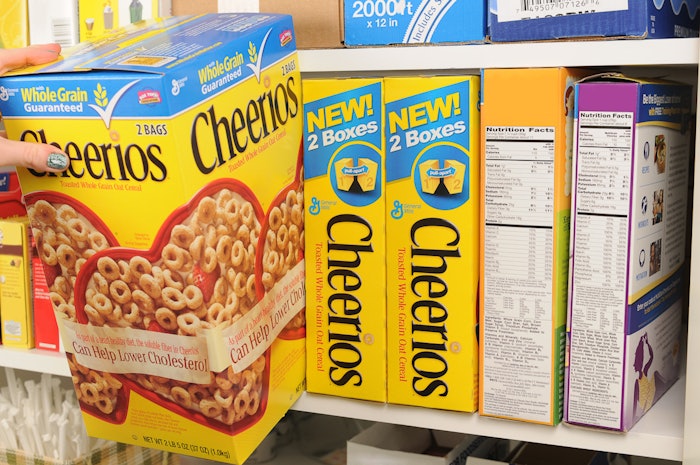 The technology has led to a change in General Mills' club store package. Gone is a large carton holding two bags. In its place are two cartons unitized as one by means of an adhesive.  Each carton holds one bag. Because the densely-packed bags hold 10% more cereal by weight than the 37-oz two-bags-in-a-carton format, less paperboard is consumed, says General Mills' Liz Mahler, a marketing manager who is helping launch the new club store packs. And because more of these smaller cartons fit on each truck, they will require 10% fewer trucks to transport the same volume of product. That saves more than 25,000 gallons of fuel and reduces the firm's carbon footprint by 220 metric tons annually, according to General Mills. Adds Mahler, "We're making less room for air and more room for cereal."
Among the drivers behind the change was consumer research revealing that club-store shoppers enjoy the great value they find in large-size packages at club stores but are looking for more efficient storage and serving solutions. The connected 2 box design is easier for consumers to store at home and provides a more convenient pouring experience.
"Due to competitive reasons," says General Mills, no details about the cereal-settling technology or the adhesive-application method used to join the two containers is available. The new packages began appearing at Sam's Club, Costco, and BJ's in February.
General Mills also announced a new packaging metric last year for the next evolution of its commitment to sustainable packaging. By 2015, the company aims to have 40% of its global product volume sold in packaging that has been improved over the base year of fiscal 2009. The firm is using four key indicators to assess improvements: packaging weight, recycled content, renewable content, and truck efficiency optimization.
Companies in this article