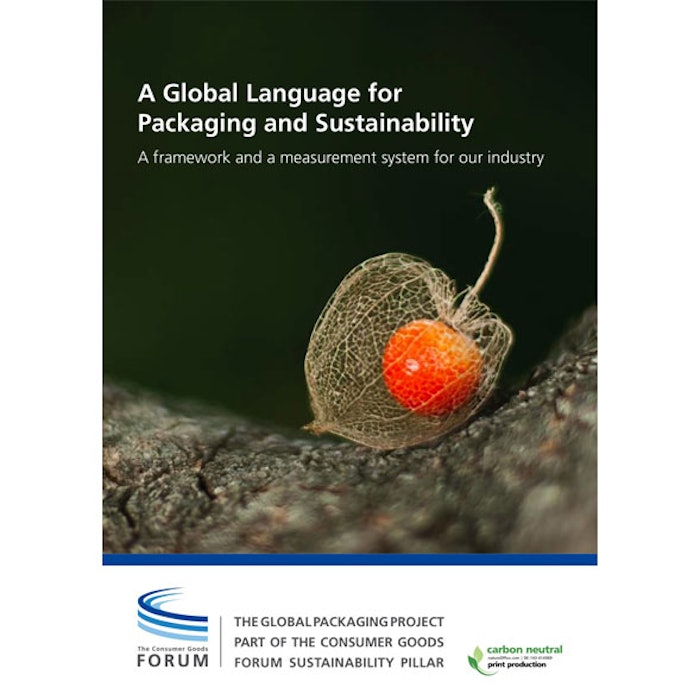 A new report, "A Global Language for Packaging and Sustainability," summarizes the output to date of the The Global Packaging Project and lays out the objectives and plans for the next phase of the project. Thus far, GPP, part of the Consumer Goods Forum Sustainability Pillar, has developed a common framework and measurement system related to sustainability and packaging, created to help trading partners make better, more informed decisions.
Says Paul Polman, Unilever CEO and The Consumer Goods Forum board co‐sponsor for sustainability, "Our industry has a responsibility to review the packaging it uses and to ensure that any negative impact arising from its production or disposal is minimized. Packaging spans the entire value chain and is a shared responsibility for all trading partners. To be able to address this responsibility effectively, trading partners need to have a common way of talking about packaging and sustainability. This project delivers that language and will enable more informed dialogue."
According to the report, "The more unified approach of a packaging and sustainability measurement system will not only enable organizations to work together more effectively but also allow them to realize new opportunities and manage risks."
Among the benefits cited by GPP that will result from industry adoption of a common framework are:
• Cost reduction
• Reduced impact
• Improved consumer perception
• Improved decision making
• Extended influencing
Using the Sustainable Packaging Coalition's Packaging Sustainability Metrics Project as a base, the GPP project team developed a measurement system that includes 52 indicators that encompass the environmental, economic, and social pillars of sustainability. For example, among the environmental indicators are packaging weight, recycled content, energy audits, and others. Economic indicators include such things as total cost of packaging and packaged product wastage, while social indicators include product safety, community investment, child labor, and other issues.
Each indicator is laid out with supporting information that clearly defines the indicator, and gives the metric and guidance on what and where to measure.
The next phase of the project, which began in April and will continue until September, involves pilot programs at more than 25 companies. "The purpose of the pilots is to prove the applicability and value of the measurement system for packaging in the context of sustainable development," reads the report.
Feedback from the pilots will be used to update and finalize the GPP framework and measurement system, which will then be launched throughout the industry to support companies in embedding the principles of this common language in their daily business activity.
Some 84 stakeholders have contributed to the project, including manufacturers, retailers, packaging converters, trade associations, academics and consultants, with core input from ECR Europe,The European Organization for Packaging and the Environment (EUROPEN), the Grocery Manufacturers Association (GMA), and the SPC.