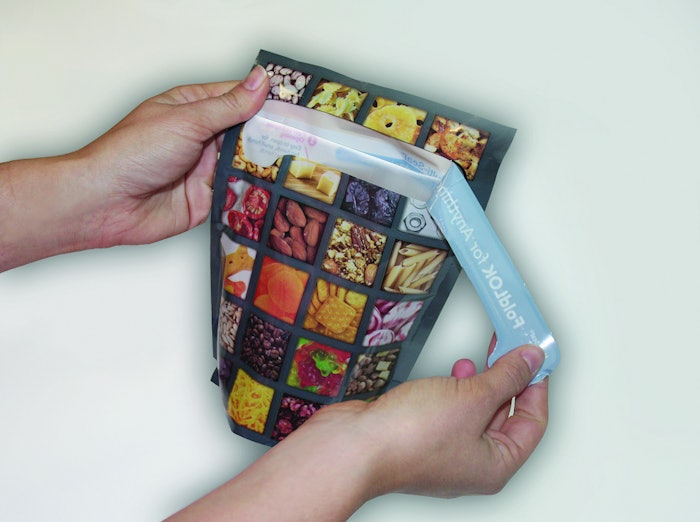 To help preserve and enhance the shelf life of baked goods, food packaging and processing suppliers offer a variety of technologies promising better product protection. Many of these technologies will be showcased at Pack Expo Las Vegas 2013, September 23-25 at the Las Vegas Convention Center.
Along with product protection, these new technologies often provide additional product value. Such is the case for the Cryovac Multi-Seal FoldLOK reclosable packaging line (A), from Sealed Air (Booth # 1141), which recently expanded its stand-up pouch line to accommodate a wider range of food items, including baked goods such as miniature doughnuts and bite-sized cookies.
What makes this reclosable pouch design unusual is its folding mechanism. After opening the item for the first time, the consumer folds the top of the bag over a strip and the materials stick together to seal the package. The package can open and reclose several times over the life of the product. The absence of a zipper component blocks out humidity and enables a user-friendly closing process for children and the elderly, as well as a reduction in packaging materials, Sealed Air says.
Similar benefits of protection, convenience, and sustainability are delivered by Clear Lam Packaging's (Booth # 5801) new Peel and ReSeal Lidding Film technology (B). This easy open/easy close lidding system can be hermetically sealed, enabling a modified atmosphere to extend product shelf life and reduce food waste. The technology eliminates the need for rigid lids and shrink bands and also reduces package weight. "Processors and retailers are demanding packaging that helps extend product freshness, protects the product from bruising, stays cost efficient, and meets sustainability goals," says marketing manager Jim Foster in describing the technology's appeal.
Laser scoring and perforating applications, including a brand new peel and reclose development (C), will be shown by Converter LaserSharp FlexPak Services, LLC (Booth # 4440). "This innovation is designed to help produce packages that are convenient, easy to open, and then are later used to conveniently store the package's contents. The peel and reclose process can be applied to packages meant to store and preserve perishable food items, such as baked goods," says Jessica Ley, office and marketing coordinator. A pressure-sensitive adhesive material forms the easy- open feature for the peel and reclose application. For convenience, an easy open pull-tab can be added to the package.
In addition to the latest peel and reclose development, the company's laser perforating process can help extend shelf life by controlling the amount of oxygen, carbon dioxide, and moisture inside the package. "This process will also aid in the reduction of condensation and bacteria growth, while keeping the product fresh with improved flavor," says Ley.
Protection
Of course, a sophisticated opening and closing mechanism means nothing if the package itself doesn't offer protection. Some manufacturers opt to shrink wrap their baked goods, but the process isn't always simple.
"Shrink wrapping baked goods such as pies, cakes, and pizzas can be a challenge for many manufacturers because of debris and toppings that can fall off, causing issues with shrink seal quality, shelf life, and appearance," says Nick Rakhshani, marketing manager, Extreme Packaging Machinery (Booth # 1051). His firm offers its Revolution XR-Series automated shrink wrap system,which includes a stainless steel full wash-down design and a modular servo multi-belt infeed integrated with a continuous motion wrapper. The customizable design allows loose toppings to fall away before the product is sealed, a feature Rakhshani says makes the XR-Series ideal for the high-speed shrink wrapping of baked goods.
Decorative and industrial tin manufacturer Allstate Can Corp. (Booth # 7463) offers a baked goods packaging solution that harkens back to simpler days while accommodating modern requirements. Its standard Slip Cover Can (D) is often used to house baked goods.
"Consumers have an affinity and comfort level with storing food in tins and report that they can keep items fresher longer. Light, air, and moisture are the primary forces that cause spoilage, and tins offer protective benefits to inhibit these forces," says Leslie Wing, director of marketing and creative.
Sound process is important, too
While today's packaging technologies offer support to food manufacturers, Liberty Technologies, a Millwood Incorporated company (Booth # 6438), also stresses the importance of sound processes for baked goods shelf life.
The company recently launched its patent-pending SafeFlo technology for the storage and controlled gravity flow of slip sheets and other pallet-less load applications. The slip sheet system uses air and gravity to control the movement of unit loads through a high-density storage system. Good for confined spaces, the inventory system helps ensure that bakery products are stowed and moved out in an orderly fashion to ensure freshness to consumers.
"When dealing with processes for food products such as baked goods, consider rotating the inventory on a first in, first out basis," says John Moore, director of corporate marketing at Millwood Inc.