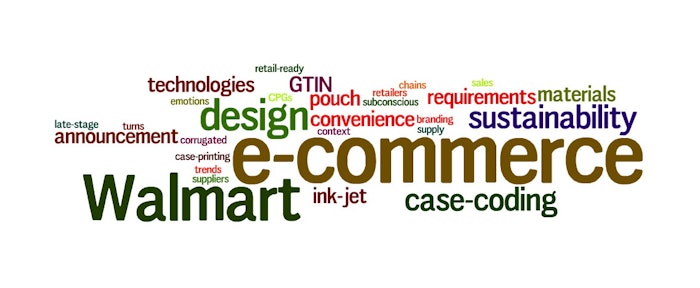 As in the past several years, Packaging World is starting the new year by taking a look back at those topics that drew the most interest from our website readers in 2016. In contrast to 2015's countdown of the Top-10 most-read articles—which covered a broad array of issues, from sustainability to new technologies to package design—2016's list is more focused. Half of the Top 10 are stories on the emerging e-commerce market and Walmart's announcement in early 2016 of new case-coding requirements, proving that, when Walmart talks, the market listens.
10. How will e-commerce affect package design?
With a product no longer needing to differentiate itself on a physical shelf, how will primary package design change—if at all—for products sold online?
9. Mayo debuts in a spouted stand-up pouch
Described as "a great addition to the existing Duke's product line," this Southern-style mayonnaise comes in a shapely reclosable pouch that's packed in a retail-ready case.
8. Appeal to the subconscious through package design
In order for packaging to work as an effective branding tool, it must evoke positive emotions, memories, and personal context in a conscious and subconscious manner.
7. Little Spoon set to disrupt the baby food category
Fresh, organic purees for babies use HPP to preserve nutrition and flavor, and extend shelf life. Packaging is a cup with integrated spoon that is simply and stylishly decorated.
6. Finding the sweet spot in e-commerce packaging
Packaging machinery and materials suppliers introduce new technologies to help e-commerce retailers meet consumer requirements for product protection, sustainability, and cost.
5. Walmart roils the case-coding waters
Online ink-jet printing of GTIN on cases is a key to late-stage customization that lets CPG companies minimize the cost of corrugated. Now Walmart is banning ink-jet GTIN.
4. RIT students redesign Wegmans' packs for convenience, sustainability
Student teams from RIT redesign packaging for Wegmans' orange juice and Greek yogurt, creating greater convenience and cost savings and using sustainable materials.
3. How e-commerce is changing the packaging landscape
With e-commerce sales of grocery products predicted to grow to $18 billion by year-end 2018, CPGs struggle to understand its impact on traditional packaging supply chains.
2. Walmart turns case printing on its head
A February 2016 announcement from Walmart titled "Master Case Labeling Standards and Expectations" sent tremors through Consumer Packaged Goods companies across the country.
1. Six packaging trends for 2016
A new report identifies six key trends set to transform the global packaging industry in the coming year.