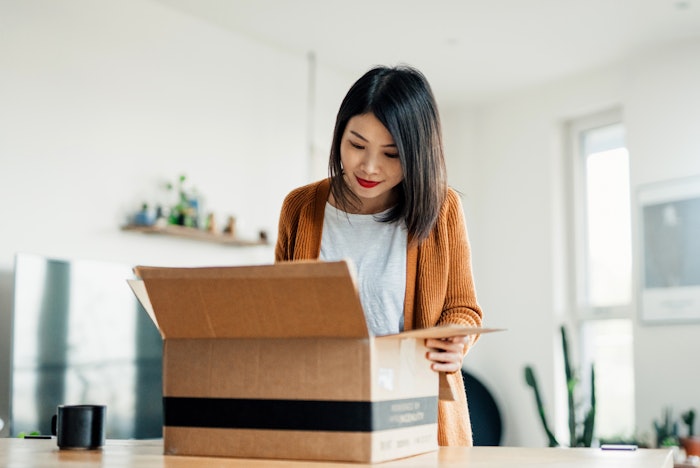 In its seventh-annual e-commerce consumer study, order fulfillment provider Dotcom Distribution found the biggest takeaway was the tremendous impact sustainable packaging has on consumer purchase decisions and brand affinity.
Following are five consumer preference trends in sustainability that the report says are shaping the e-commerce landscape, and three consumer trends related to gift-like and inner packaging for e-commerce:
1.    Sustainability emerges as a major driver of purchase decisions and brand affinity: Among packaging factors (e.g., free samples, gift-like packaging, personal messages), sustainable packaging, at 42%, is the factor most likely to compel online shoppers to be a return customer. Likewise, among environmental factors (e.g., ethical sourcing, fuel-efficient transportation, product ingredients), sustainable packaging was reported as the most attractive feature, at 45%.
2.     Paper beats plastic: Given the choice between receiving an online order in a box or a film bag, 82% of all respondents prefer boxes. Twenty-eight percent of that group credited their preferences to boxes providing better protection in transit; 27%  said boxes are more eco-friendly; and 24% said they reuse the boxes.

---
---
3.     Luxury shoppers place more emphasis on environmental factors when making purchase decisions: Forty-nine percent of luxury shoppers reported making purchases from or subscribing to companies that support a circular economy, compared to 31% of non-luxury shoppers.

4.     More men reported prioritizing sustainable packaging than women: Discounting product quality, 44% of males said sustainability is the packaging factor most likely to make them want to shop with a brand again compared to 39% of females.
5.     Older consumers are most influenced by sustainable packaging: More than any other age group, at 49%, consumers over 60 credited sustainability as the packaging factor most likely to make them want to shop with a brand again. In comparison, 46% of shoppers ages 18 to 29 said that they are most influenced by sustainable packaging, 41% of those ages 30 to 44, and 35% of those 45 to 60 years old.
---
---
6.     Pragmatic packaging preferences: More than any other inner packaging components, consumers want packing slips and pre-paid return labels included in their online order packages (63% each), followed by surprise giveaways (45%), and coupons (39%).

7.     The younger the shopper, the more responsive they are to branded and gift-like packaging: Forty-nine percent of online shoppers ages 18 to 29 said branded or gift-like packaging gets them excited about receiving/opening a package, compared to 37% of shoppers 30 to 44, 29% of shoppers 45 to 60, and just 15% of shoppers over 60.

8.     Sporting goods consumers are most susceptible to gift-like packaging: At 39%, sporting goods consumers were more likely than shoppers who purchase anything else online to say the use of gift-like packaging makes them more likely to purchase from a brand again (30%).

Download a free copy of the study: "2021 Dotcom Distribution eCommerce Consumer Study"
---
PACK EXPO Las Vegas and Healthcare Packaging EXPO (Sept. 27-29, Las Vegas Convention Center) will reunite the packaging and processing community. With over 1400 exhibitors, no other event in 2021 will bring together a more comprehensive gathering of suppliers offering new products, technologies, and solutions. Attendee registration is now open.