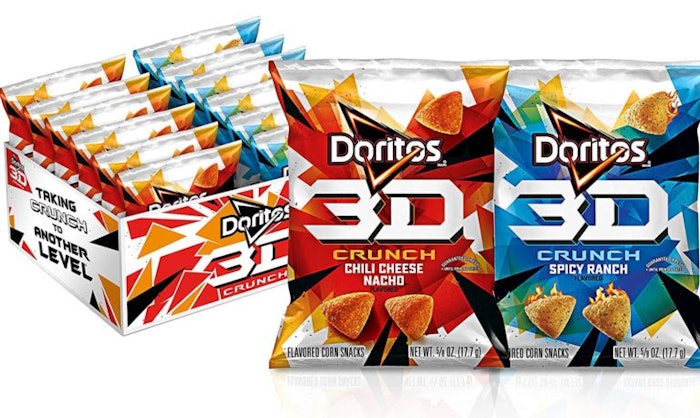 Digital Commerce 360
Reprinted with permission from Digital Commerce 360 -
Author James Melton - to see original post click here.

PepsiCo Inc. doesn't sell much directly to consumers online. But it sees ecommerce as a vital part of its future and credits digital sales with helping it—and the retailers it works with—stay competitive and connected with consumers during the COVID-19 pandemic.
The consumer packaged goods (CPG) giant set up a dedicated ecommerce team about five-and-a-half years ago in 2015, says Vince Jones, head of global ecommerce at PepsiCo. Those ecommerce investments put PepsiCo in an excellent position to ramp up distribution to online channels once the pandemic hit the United States in early 2020, he says.
"I give PepsiCo credit for recognizing that ecommerce disruption was coming, and it was going to happen, although we didn't exactly know when," Jones says. PepsiCo tasked that group with working with retailers to "develop the online channel" by figuring out the kinds of technologies and other changes that transformation would require and investing as necessary, he says.

Those investments, Jones says, allowed PepsiCo to be ready for the surge in orders across all ecommerce channels as consumers shifted to online shopping because of the pandemic. During 2020, sales via ecommerce channels nearly doubled, he says. And PepsiCo's research finds that about 50% of new online grocery shoppers will stick with it because they like the convenience grocery ecommerce offers.
Jones joined PepsiCo in 2017 from Bluestem Brands Inc., where he was executive vice president, chief operations officer and chief digital officer. Bluestem (No. 56 in the 2020 Digital Commerce 360 Top 1000) is the parent company to seven ecommerce retail brands. Prior to that, Jones was president and CEO at eBags, an online retailer of bags and travel accessories now owned by Samsonite International S.A.
How PepsiCo approaches ecommerce
As a CPG company, PepsiCo looks at ecommerce differently than retailers. It defines online sales as those made online through retailers—including Amazon.com Inc. (No. 1). Walmart Inc. (No. 3) and other merchants' web operations. It typically does not sell its products directly to consumers from a websites it operates for major brands. For example, Doritos.com provides information to shoppers about the chips and directs shoppers can buy them online or offline, but does not allow shoppers to purchase on the website.
PepsiCo breaks down ecommerce into three main categories:

"Pure play" online sellers: These are retailers like Amazon or Walmart.com that put together orders in a distribution center and shipped via a common carrier like the United States Postal Service or United Parcel Service.
E-grocery: This category includes ecommerce operations of grocery chains and other merchants that allow customers to buy online for pickup at the store or local delivery.
"Concierge" services: These are on-demand services that deliver orders in one or two hours. This category includes app-based delivery services such as Instacart.
Instacart handles deliveries for retailers like grocery chain operators, Kroger Co. (No. 13), Albertsons Inc. (No. 73) and warehouse club Costco Wholesale Corp. (N0. 16).
For each online retailer, PepsiCo sets up dedicated customer teams whose goal is to customize a strategy for maximizing sales on each, Jones says. The customer teams include people from various specialties, such as data and technology, sales, marketing, and supply chain staffers. That's important, he says, because each online distribution channel has its own needs and challenges. The cross-functional teams, he says, allow the company to be flexible and respond quickly to marketplace changes.
"One of the things we've learned is if we have our marketing team and our sales team all dialed up, but our supply chain isn't in sync with what they're doing, all of a sudden, we find that… we don't get the outcome that we're looking for," Jones says.
Made for ecommerce
For pure-play ecommerce sites, PepsiCo creates certain product variations specifically for online retailers, Jones says.
"In some places like pure-play, you might need to have to have different SKUs than you have in [a traditional] retail channel," he says. "That could be for reasons like it needs to be easier to ship in its own container. It could also be because there's more expense associated with a pure-play order, so you need to get your average ticket up a little bit higher to get more margin in that type of SKU."
PepsiCo creates ecommerce-only packages designed to be shippable, profitable and consistent with consumer demand. That often means creating multipacks and variety packs, Jones says.
"We see that variety packs and multipacks over-index in this online space," Jones says.
For example, PepsiCo created a 36-count variety pack of its Doritos 3D corn chips for Amazon and Walmart.com. Another is a six-flavor sampler pack of Mountain Dew Rise soft drinks, which it sells in that configuration exclusively on Amazon.
The need to always be in stock
Accurate data also is vitally important to selling online, Jones says. Because of that, PepsiCo has invested heavily in analytics technology, Jones says.
"We have technology that allows us to understand [things like] in-stock levels and sales rates, so we can actually predict when we might be going out of stock and, in some cases, even prompt a retailer to place a purchase order with us so that we can make sure we're in stock," he says.
Having products in-stock could make the difference between keeping or losing the loyalty of online shoppers, Jones says. PepsiCo's research shows that when consumers start shopping for groceries online, 75% to 80% of future orders will match the items in their first few online orders, he says. "It's really important that we get into those first few orders. That makes being in stock more important than ever," Jones says.
Being out of stock also can hurt a CPG company's positioning on an ecommerce website. That's because algorithms determine how visible products are to site users.
"You earn your way up… with your performance on the algorithm," Jones says. That means an out-of-stock item can lose its position, which can mean less visibility and fewer sales. Also, he says, PepsiCo has a drop-ship capability, which a retailer can access to fill orders and help prevent out-of-stocks.
Besides keeping items in stock, PepsiCo built tools to help it manage its campaigns on retailers' advertising platforms, Jones says. The tools interact with the application programming interfaces (APIs) for the advertising platforms and allow PepsiCo to make adjustments in real-time, he says.
In its quarterly statements, PepsiCo does not break out direct-to-consumer or wholesale ecommerce sales. PepsiCo also does not reveal the percentage of total revenue it derives from online channels, Jones says. However, DTC online sales represent a tiny part of PepsiCo's revenue, according to Digital Commerce 360 estimates.
Examples of products sold DTC include home carbonation brand SodaStream, which sells both in stores and directly to consumers. PepsiCo also sells Health Warrior, a nutrition bar and healthy snack brand DTC.
PepsiCo ranks No. 1845 in the 2020 Digital Commerce 360 Next 1000.
Companies in this article