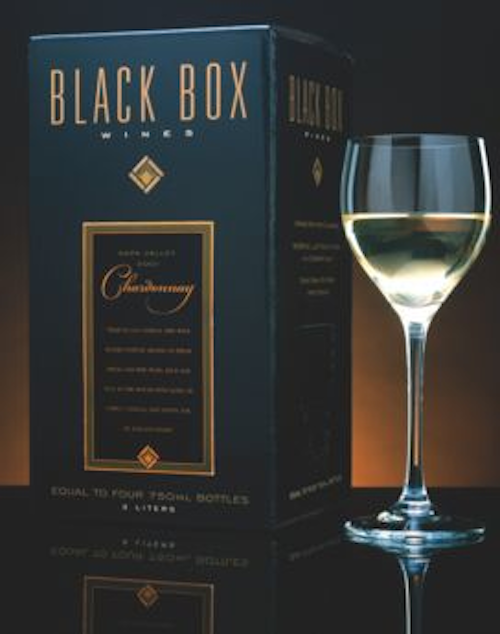 "Our goal is to help bring fine wine into mainstream America by making quality wine affordable and convenient," says Black Box founder and president Ryan Sproule. "High-end boxed wine has been popular in Europe and Australia for years. We are challenging the wine industry and changing the way Americans feel about boxed wine."
The bag and integrated fitment are from Scholle, the box from Color-Box. The 3-L B-I-B holds the equivalent of four 750-mL bottles of wine. The suggested retail price is $25, $6.25 per bottle.
"If bottled, the wine would retail for about twice that price," says Sproule. "Our savings on bottles, shipping, and storage allow for a very nice price break that we pass along to the consumer."
Oxidation prevention
Another B-I-B advantage is in maintaining freshness longer after opening. The barrier, nitrogen-flushed bag inside the box prevents oxidation, which normally spoils a bottled wine a few days after opening.
"Even after the box is opened, there is no new oxygen introduced into the package," Sproule says, pointing out that oxidation is especially noticeable in a premium wine. "The wine will stay fresh up to four weeks after opening as the bag collapses." He says that's a big selling point, especially with single professional women who enjoy wine, but have been reluctant to open a bottle. Unopened, the product shelf life is nine months, he adds.
Barrier bag and dispensing fitment
Scholle's DuraShield™ 45 bag, a 4.1-mil bag of polyethylene/nylon/5-layer coextrusion with ethylene vinyl alcohol barrier layer is provided with a Scholle FlexTap™ dispensing tap. The four-piece FlexTap, with a red push-button dispenser and 3/8'' orifice, is supplied fitted over a 1 1/4''-dia PE ring welded to the bag.
In an agreement made in August 2003, Sproule licenses the product to Pacific Wine Partners, which does the contract packaging and handles the products' distribution, sales and marketing. It is filled at PWP's Gonzales, CA, plant, on two leased Scholle AF-9 fillers. The semi-automatic machines fill five bags/min/machine.
The box is E-flute corrugated litho-laminated with six color printing. Graphics are from Cameron Design.
Sproule says the 5''x 5'' x 9 1/2''-H box's "tower" shape is unique. Launched in January 2003, the Chardonnay has been followed in October by a Merlot and, in January 2004, a cabernet and a second Chardonnay, all in the 3-L B-I-B pack.
Companies in this article