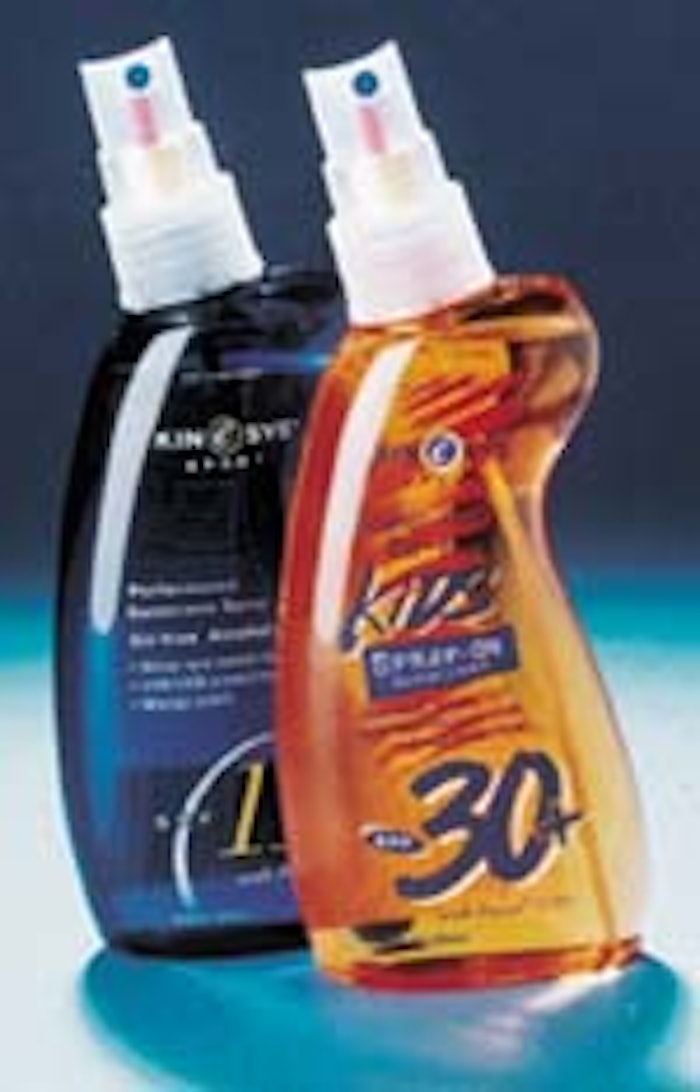 It is ergonomically designed to provide clean, efficient sunscreen application. Designed for active consumers,the KINeSYS bottle fits ergonomically into the user's grip, perfectly aligning the index finger and spray pump while also preventing bottle slippage.
"We wanted something that would really differentiate KINeSYS from other products right away," says Josie Kletter, vice president of Richmond, British Columbia, Canada-based KINeSYS Pharmaceuticals, Inc. WOW! A Branding Co. (Vancouver, British Columbia, Canada) designed the ergonomic bottle-and-sprayer combination. KINeSYS selected the 12-component EuroMist® Classic fine-mist spray pump from SeaquistPerfect Dispensing (Cary, IL), because it gave the most consistent dispensing results, according to Kletter.
KINeSYS owns the trademark and patent on the bottle, which is extrusion blow-molded of blue polyethylene terephthalate by a manufacturer in Asia. Because the bottle's neck is positioned at a 15° angle, KINeSYS couldn't find a North American source, says Kletter. Bottles are produced and screen-printed in three colors in Asia, then shipped to contract packager Norwood Packaging (Surrey, British Columbia, Canada). Norwood fills the bottles, applies the sprayers and ships completed packages back to KINeSYS for distribution.
In addition to the Sport line of oil-free, alcohol-free sunscreens, KINeSYS' U.S. launch also includes a line of children's sunscreens in orange PET. Available in drug and sporting goods stores, as well as on the Web (www.kinesys.com), the 4-oz bottle retails for $11.99 to $12.99 and is available in SPFs of 15 to 30+.
"People love the package," says Kletter. "We call it our 'Wow!' bottle, because that's always the first word out of people's mouths when they see it."
Companies in this article