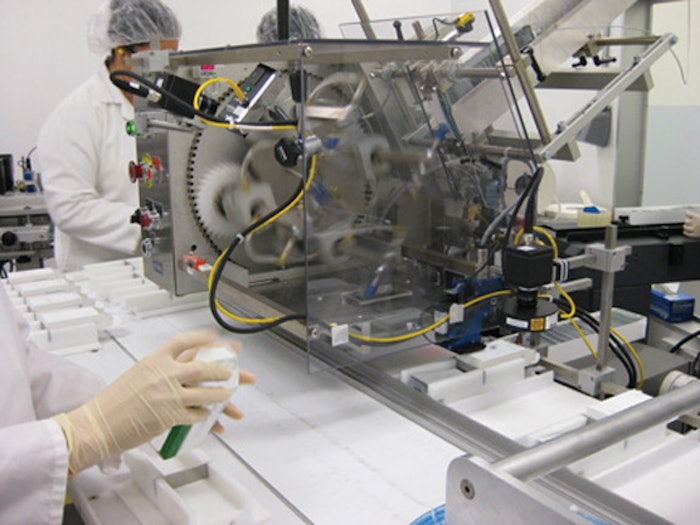 Product manufacturers require serialization capabilities to address current European and pending U.S. regulations, reports
Systech International
. Moreover, many leading pharmaceutical companies see serialization as an ongoing component of their brand integrity and supply chain strategies.
Sharp Packaging's, customers are serializing high-value products, such as medical supplies, that require temperature control or specialized handling, or products that have a high black-market street value. For these reasons, Sharp wanted to establish a solution that could meet the serialization needs of any product manufacturer, but especially Cephalon Inc.
Cephalon, Frazier, PA, a prescription medication manufacturer focused primarily on neurodegenerative disorders, such as Lou Gehrig's disease, Alzheimer's, and Parkinson's disease, has recently expanded into pain and oncology medications. On average, Cephalon's oncology products change hands six to nine times before they wind up in consumers' medicine cabinets. This high amount of handling subjects those products to possible damage and also to becoming short-dated. In addition, it leaves Cephalon susceptible to fraudulent and erroneous returns.
The need for serialization
For Cephalon, which registered nearly $2 billion in sales in 2009, continually issuing credit for the return of a high-value product significantly impacts its financial results. The company realized that serializing each individual product would enhance supply chain visibility to help recognize and reduce fraud where it is occurring.
"Sharp will be primarily serializing cartons for the Cephalon project," explains Rick Seibert, vice president, project management and new business development at Sharp Packaging. Sharp is using Systech's packaging equipment integration systems to do the job.
"Based on input from Cephalon, and on the market inquiries we've received, the equipment we've implemented can handle a range of product dimensions, such as cartons of various sizes, and can handle 2D barcodes as well as RFID requirements." Garrick Heidt, senior manager-packaging technology at Cephalon, explains the reasoning behind the decision to request Sharp's expansion into serialization: "Systech's packaging equipment integration systems have been used in our own Salt Lake City manufacturing and packaging facility for about four years." The need for the serialization, he says, came about because Cephalon sees many upcoming regulatory initiatives on the horizon.
"But we also know the distribution of prescription drug products is complex, and we appreciate the value of data which serialization provides downstream," Heidt adds. He says Cephalon selected Sharp as a partner for routine packaging of some of its key portfolio products.
"Serialization is a way for manufacturers to become more efficient by ensuring that the right drug gets to the right client at the right time," Seibert explains. "We believe the future for serialization solutions extends well beyond the pending regulatory requirements for track and trace. The value of having specific information on a single-product basis will ultimately assist our customers to build the value of their brands, while ultimately driving cost out of their supply chains and improving the clinical outcomes of patients through improved compliance and adherence to medication regimens." Sharp has been "serialization ready" for Cephalon for more than 18 months, Seibert adds.
Seibert further elaborates on Sharp's relationship with its client: "Cephalon came to Sharp with the Systech solution in mind, primarily based on the experience Cephalon already had with Systech stemming from an implementation done at another Cephalon site. Sharp was configured similar to that Cephalon site, so we could be a 'flex depot,' so to speak, for Cephalon products needing serialization. Using Systech allowed for a more streamlined implementation, and also allowed for a business continuity approach for Cephalon.
"The great challenge for this or any serialization project is communicating packaging data between the enterprise systems and the packaging operation with absolute precision," Seibert continues. "As an outsourced packager, that communication is made even more complex."
Taking a closer look
In addition to providing a single point of operation across multiple lines, Systech's Guardian® technology answers Sharp's and Cephalon's needs with a fully automated serialization application called Systech Serialized Product Tracking. Systech SPT connects with a manufacturer's enterprise repository of serial number data and provides serial number data to the packaging line as needed. At the line level, Systech Advisor assigns and verifies codes, tracks items through the packaging process, and establishes relevant parent-child relationships. SPT also tracks post-lot changes off of a packaging line to ensure true and complete serialization. To facilitate communication, as Seibert notes, a basic Virtual Private Network (VPN) was established. A VPN uses the Internet to connect remote offices to the central office network in real time. The serialized numbers for the products are transferred out of the manufacturer using the VPN, and the numbers enter Systech Guardian at Sharp's facility.
Systech's SPT program acts as a gateway between enterprise information technology (IT) systems and packaging operations. Regardless of the speed or availability of enterprise servers, the packaging operation can continue running at maximum throughput. Similarly, the SPT gateway collects data from the entire on-line and off-line packaging operation, ensuring the integrity of serialization data before it is delivered back to the enterprise IT systems. Moreover, Systech's open architecture allows serialization to easily connect to remote systems. Leveraging this open architecture, Sharp seamlessly delivers data directly to any customer's enterprise software.
According to Sharp, Systech's platform is easy to use and can quickly accommodate changes. The technology also enables fast line operation, easy changeover, and fully automated serialization. These capabilities provide Sharp with the means to successfully take on the most challenging packaging projects and address the various demands of its 75 customers.
The benefits of Systech's program and Sharp Packaging's implementation have accrued measurably, Seibert says.
"Cephalon has approached the project for the following strategic benefits: Use of Sharp as a backup business continuity site for packaging, should any technical issues arise at their other serialization facility." Seibert says. "Also, use of Sharp and Systech allows for faster integration and seamless connectivity between Sharp and Cephalon when dealing with serialized products. "Finally, use of serialization has allowed Cephalon to gain a quick return on investment, based on the ability to refine their 'returned goods' authentication process."
The author, Mary Ann Falkman, is a veteran packaging industry journalist. Contact her at 630/653-5950 or
maf184@aol.com
.
Companies in this article