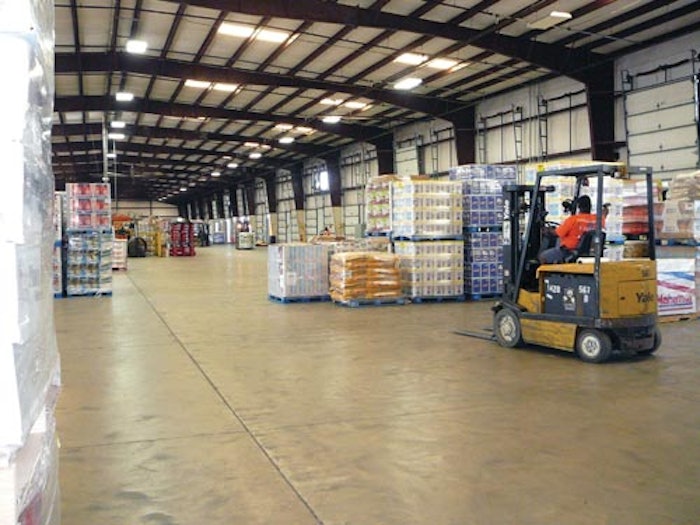 "Today, more than ever, companies are scrutinizing their supply chains in search of creative ways to take costs out of the system, manage inventory levels, increase efficiencies, and satisfy mercurial customer demand," states a new white paper from Saddle Creek Corp., a supplier of logistics, contract packaging and fulfillment.
"Cross-docking is one strategy drawing increasing consideration. While not a new practice, it has seen a resurgence of interest in recent years. Its ability to shorten the shipping cycle, control inventory carrying costs, and deliver just-in-time service with a minimal upfront investment makes cross-docking an attractive option for many companies responding to economic pressures."
Cross-docking is a term that is almost self-explanatory. Inbound dock doors line up on one side of a long, narrow building, with outbound dock doors directly opposite, and very little in-between to impede product flow. The key is to immediately identify incoming truckloads of product, usually with bar code scanners, and then divert what product is needed to outbound trucks already being loaded.
According to Saddle Creek's research, about 69% of consumer product companies use cross-docking operations, and another 15% plan to add cross-docking capabilities.
"A typical cross-docked product will be identified at the time it is being unloaded from the inbound truckload, and at that time the system identifies the opportunity to use the product for an outbound order that is in process at that point. Product does not go into inventory," explains Mike Marlowe, vice president of customer innovations at Kane Is Able, Scranton, PA. The contract packager and logistics supplier has been doing cross-docking for more than 25 years.
Lakeland, FL-based Saddle Creek finds that, for customers outsourcing their packaging function, cross-docking boosts efficiencies, says Tom Patterson, senior vice president of warehouse operations. "We package the product and send it right back out. Our goal is to add value wherever we can. The cross-docking function can either be a standalone offering or included in a package of offerings that we provide to a customer."
Like Kane Is Able, Saddle Creek also has been doing cross-docking for many years. But the business has changed from 20 years ago. "There is a lot more momentum today," Patterson says. "Back then, logistics as a whole was an afterthought. Now, we can gain efficiency in the flow of product, taking days off the production cycle.
"We have some customers who want us to do only cross-docking, and others who blend cross-docking with traditional logistics," Patterson continues. "For some retail customers, we know we can never run out of their top-selling products "A," "B," or "C." Other retailers want us to hold the product in storage for them until that product is needed. Looking up the supply chain, however, cross-docking is somewhat invisible to the suppliers. With vendor- or supplier-managed inventories, the vendor can reap benefits from cross-docking, like speed-to-market and a reduction in supply chain costs, but it is more of a downstream customer benefit or customer requirement."
The primary goal of cross-docking is that the product does not sit idle for long, Patterson points out. "I know my customer's needs for his product "A." So I receive enough of "A" on the incoming truck, sort it, and send it out on 15 different trucks as mixed loads with other products destined to 15 different retailers. The incoming freight may be just one product per truckload, but the outbound trucks are mixed loads. We are not building an inventory. What have we gained? Fifteen trucks will each make one stop instead of 15 stops. Along with cube efficiency, that reduces freight costs."
Taking it seriously
The Visual Pak Companies has been performing distribution activities for clients since its inception. However, the Waukegan, IL-based company has refocused. "About four years ago, we got serious about distribution when we launched an operation in a 700,000-sq-ft building in the Southeast U.S. that focused solely on cross-docking operations," explains Tim Koers, chief operating officer. "We leveraged our operational knowledge from years of smaller cross-docking activities, as well as worked closely with our customers to tailor it to their specific postponement and distribution requirements.
"There is nothing too glamorous about cross-docking operations, but we take great pride in trying to innovate the processes through various means to make it more efficient and economical. We decided to put more effort into cross-docking for a variety of reasons," Koers continues. "The first and foremost motivation was because we listened to our customers, and they have a need for it. They really appreciate a single-source vendor who is able to procure raw packing materials, manufacture their goods, package their goods, distribute and transport their goods. It makes it easier on the hectic daily demands of our CPG customers, and it provides a single point of accountability.
"The second reason was to foster and fuel internal growth and service offerings. By creating a focused operation, we were able to learn much about not only how the tactical decisions affect the operation, but also what benefits cross-docking provides on a strategic level. Lastly, we have committed to growing our Visual Pak Logistics division, and this was a natural extension for our existing asset and broker-based division."
Keeping an eye on product movement
Growing the logistics side of the business, however, requires tight control over product tracking. "We keep track of products on a pallet-by-pallet level with a state-of-the-art, internally designed and developed Warehouse Management System (WMS)," Koers explains. "Our system utilizes our own 'License Plate' tagging of each and every pallet that comes into the warehouse through receiving, is consumed in the production process, is generated as output in the production process, and lastly is shipped out from the docks.
"Our system allows us to scan a bar code and know everything about that pallet: when did it come in, who touched it last, how many times has it been touched, where has it been, how old is it, and so on. It really drives accountability in the critical material movement processes through the operations.
"Additionally, our WMS, being fully integrated in the same development environment as our ERP (enterprise resource planning), allows us the significant advantage of customization and the speed in which we roll out changes," Koers continues. "We have the ability to further deepen our client relationships with immense quantities of data shared through portals, data dumps, traditional electronic data interchange, and custom reporting. This means a lot to CPG clients and shows we are excellent stewards of their goods."
The author, Mary Ann Falkman, is a veteran packaging industry journalist. Contact her at 630/653-5950 or maf184@aol.com.

Companies in this article