Potandon Produce is the largest marketer of fresh tablestock potatoes in the nation as well as a leading marketer of fresh onions. From its headquarters in Idaho Falls, ID, Potandon manages a nationwide network of growing and packing operations in every major shipping area, offering a continuous 52-week supply for fresh market channels.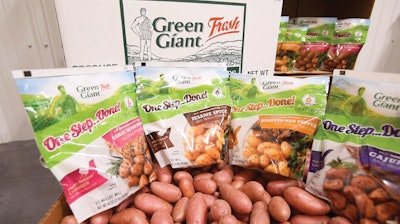 Potandon is also the exclusive marketer of Green Giant brand fresh potatoes and onions. Its latest innovation, One Step…Done! potatoes, flies under the banner of this iconic brand. It's a 1-lb serving of fresh potatoes in a dual-chamber bag that includes a patented butter and seasoning disk in its own separate chamber. The product cooks in the microwave in just one step. No punching holes and no stirring half way through. Just put the bottom-gusseted pouch in the microwave oven, set the microwave for six minutes, remove the pouch, and serve. A press-to-close zipper releases from the top chamber the herbs and butter in the seasoning disk at just the right time during the microwaving process.
Launched in January, the 1-lb package sells for about $3.99. At the outset, distribution was deliberately limited because the firm wanted some time to prove out the innovative concept, including the brand new bag-filling machinery that stands behind it. "We limited it to just HEB down in San Antonio," says Carter Bray, VP-General Manager at Potandon. "They're one of the best retailers in the business." But by now the product is sold through 20 different distributors in select markets across the country. Plans to make the novel packaging format more widely available nationwide are now underway.
"We know that 60 percent of consumers don't know what they're going to have for dinner at four o'clock in the afternoon," says Bray. "We also know that whatever they do decide to cook, they want it to be nutritional and they want the whole process—cooking, eating, and cleanup—to take about 30 minutes. That demand for convenience is what drove the development of this package."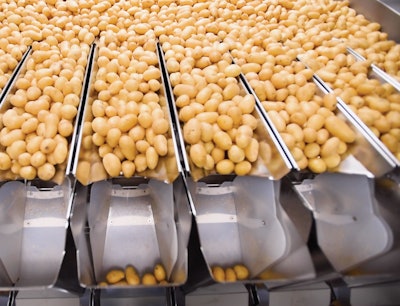 Worth noting is that the current package—which, by the way, won the Canadian Produce Marketing Association's 2019 Packaging Innovation Award—had a precursor of sorts that has now been discontinued. Called Green Giant Fresh Microwaveable Mini Potatoes in Sauce, it was  more of a pillow pack than a standup pouch, and it did not have two chambers. It, too, was designed for convenient one-step preparation in the microwave oven. But the flavorings required refrigeration, so distribution and merchandising were more expensive. There was an added drawback to it being in the refrigerated section.
Need for change
"Consumers typically have already purchased their fresh potatoes before they even get to the refrigerated section," says Bray. "So from both a cost perspective and a positioning perspective, we knew we needed to make a change."
The new butter and seasoning disk is a big part of what differentiates the old and new packaging formats. Bray notes that it represents the first patent Potandon has ever been issued. "Though it is a blend of butter and dry seasoning," he adds, "it's shelf stable, which allows us to merchandise this product anywhere in the store and not have to fight with the big boys for refrigerated space."
Bray says the idea for One Step…Done! came during a visit to the Fruit Logistica exhibition in Berlin, where Schur showed its SchurStar® bagging equipment running a two-compartment package of muesli cereal where a spoon occupied the top compartment. Like all SchurStar packages, that one involved pre-made bags strung together and fed into the machine from a large corrugated box. But there's so great a difference between dried muesli and fresh, respiring produce—not to mention that the bag Potandon had in mind needed to perform a certain way in the microwave oven—that considerable development work remained to be done before One Step…Done! was ready for the consumer.
"For quite some time it seemed that if we came up with a bag structure that satisfied our shelf life requirements, it didn't perform well in the microwave, and if it performed well in the microwave, it didn't deliver on shelf life," recalls Bray.
But Schur's people and Potandon's people kept at it, says Bray, until they had the bag they wanted. It's made from a multilayer adhesive lamination that includes polyester and cast polypropylene. The polyester is reverse printed in a 10-color process.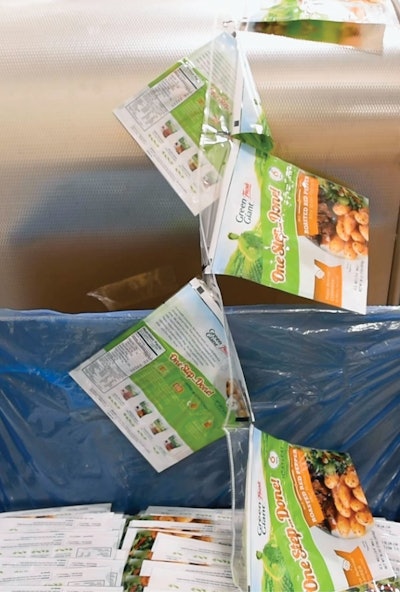 Before going through the pouch-making equipment, a "ventilation steam strip" is applied to the rollstock in register. Schur's Tracy Gilmore is a little guarded about how this is done, but he says it performs two key functions. First, it allows the fresh produce to respire at the controlled rate necessary to remain fresh and in perfect condition for an extended period. Second, as steam builds up inside the pouch during cooking, this venting feature releases enough steam to prevent the package from bursting. The net result is that the pouch becomes a little pressure cooker that perfectly cooks the potatoes.
Also applied as part of the process is the press-to-close zipper material, though Gilmore prefers not to identify who provides this zipper. He adds that it was co-developed by and is unique to Schur. Schur goes to market with this innovative concept under the name Zip-Pop Bag.
Potandon has contract manufacturer Potato Products of Idaho produce its innovative package, and that firm installed the intermittent-motion SchurStar bagging system for the purpose. Bags proceed through this system two at a time. First, specialized tooling opens the zipper and spreads open the gusseted bottom. In the next station, a Newtec machine fills potatoes by weight, after which tooling presses the zipper closed. In the next station, the flavor puck is inserted. Finally, the top of the bag is heat-sealed closed. The system in this particular application runs at about 42 bags/min, but the ShurStar platform is capable of far more versatility and flexibility where bag sizes and formats and speeds are concerned, says Gilmore.
Bray says that retailers who see the package quickly recognize how it meshes with the desires of today's busy consumer. "It's all about compression of time," he says. "People don't have time to cook yet they want good, nutritious food. That's what this is all about."