Specialty plastics provider Eastman says it is focusing on mitigating patient and clinician risk through superior materials for medical devices. Eastman has debuted a portfolio of polymers for the housing and hardware of electronic medical devices. The MXF product line that started with Eastman Tritan MXF121 is built on Tritan's durability and disinfectant resistance, and Eastman will soon be launching products that feature a UL 94 V-2 flame resistant rating.
Brad Potter, marketing director, Specialty Plastics-Medical, says, "We worked with OEMs to identify the attributes needed for specific product requirements and processing characteristics to enhance manufacturability."
In working with the OEMs, the company learned that high on-demand are materials that flow better in complex tooling and that eject more easily, as well as the material having a higher impact strength to pass product testing protocols to meet product requirement documents. The company says the Tritan MXF meets both demands.
What's different about Eastman's polymers
The result of Eastman's collaborative process is a collection of flame-resistant polymers designed for electronic medical device housings and hardware. These materials are made to offer chemical compatibility with a wide range of disinfectants used to combat hospital-acquired infections (HAIs) as well as improved durability and higher impact strength. Materials in the Eastman Tritan MXF portfolio enable ease of processing, with lower ejection force for easier de-molding.
To explain why Eastman's polymers work with a wide variety of disinfectants, Potter says theirs have different building blocks, which are monomers. These are meant to lead to lower molded-in stress for the molded parts—which cause polymers to experience premature environmental stress cracking especially when exposed to disinfectants.
According to Potter, Eastman Tritan MXF copolyesters can save money across the value chain due to reduced repairs, returns, and warranty claims from device breakage, a low scrap rate, and the lack of retooling necessary when changing from PC/ABS to Tritan MXF. He also says that using only Tritan MXF in an assembly should reduce expenses associated with the use of multiple polymers which can cause discoloration and durability issues.
Additionally, using all MXF products should create consistent color across the device after disinfection and the device would have increased durability in terms of lasting longer with fewer repairs, and fewer polymers to procure which should streamline the purchasing of materials. Another cost savings impact is that the parts would not need to be painted. This also applies to flame-resistance. The MXF portfolio of polymers is designed to be resistant to catching fire, rather than being chemically treated to self-extinguish.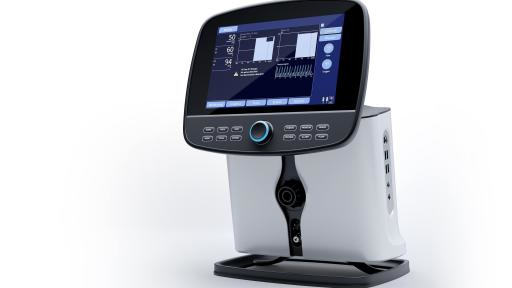 Tritan MXF VentilatorReducing the incidence of HAIs
Potter said, "Using Tritan MXF polymers in medical device housings enables healthcare workers to clean those devices more thoroughly with proper disinfectants, ultimately reducing the incidence of HAIs and positively impacting patient outcomes."
Eastman hosted two Lunch & Learns at MDMW: "Critical Material Performance Considerations for Successful Development, Design and Validation of Medical Device Packaging: A Global Perspective" about compliance with the EU MDR and "An Emerging Certification for Medical Device Cleanability and Durability: How Material Testing and Selection Help" to discuss how material screening, polymer selection, and device testing can enable device certification from the Healthcare Surfaces Institute.
Potter concludes in saying, "We are all potential patients. Cleanability and durability of devices will affect all of us.  This portfolio is one way the entire value chain can make a difference in infection prevention and help lower the cost of healthcare—making healthcare more accessible."
Companies in this article