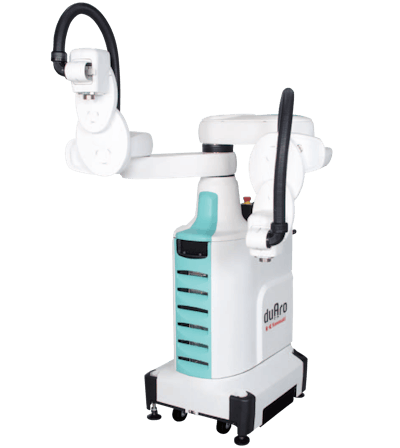 The duAro2 is equipped with the same innovative qualities of Kawasaki's original collaborative dual-arm SCARA robot, duAro, with an extended vertical stroke and increased payload. duAro robots are a cost-effective robotic solution for packaging, material handling, inspection, machine tending, assembly and dispensing applications. Their easy teaching functionality and mobile collaborative design make them ideal for short product cycles and frequent changeovers.
Increased vertical stroke and payload capacity
While the series' inaugural duAro1 model specializes in horizontal motion, the duAro2 improves upon its capabilities, extending the range of its arms' vertical stroke by 400 mm (from 150 to 550 mm) and increasing the maximum payload of its arms by 1 kg per arm (from 2 to 3 kg per arm, 6 kg total).
Innovative design
The wrist assembly has been redesigned, enabling the robot's arms to fold like humans. This linkage design increases the vertical stroke while keeping the overall range of motion compact, and allows duAro2 to be used for an even wider variety of applications such as packaging and rack loading. The new option to detach the duAro2's arms from the controller further enhance the cobot's installation versatility, making it adaptable to a wide variety of needs in manufacturing sites, such as installation on conveyors.
Controller
For optimal performance, the duAro2 robot runs on one of Kawasaki's industry-leading F series controllers, which was built specifically for duAro robots. The F61 Controller features options for Bluetooth connectivity, encoder-supported conveyor synchronization, and integrated 2D vision, among others. Previously, the D61 Controller required a separate computer dedicated to image processing in order to utilize the vision functionality.
Now, the F61 can handle image processing alone using an optional camera and software, making it a cost-effective and efficient solution.
This controller architecture also allows for more flexible installation options. The controller can be housed inside the duAro2's slim, wheeled cabinet (integrated installation option) or on its own, connected to the robot through cables (separated installation option). In the separated option, the arms are detached, enabling the use of duAro robots in almost any layout.
Companies in this article