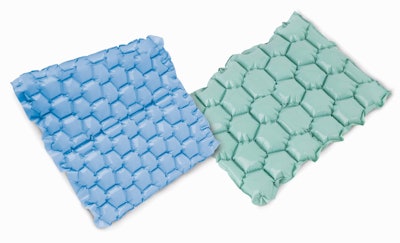 AirPouch FastWrap features a patented honeycomb pattern that supports multi-directional wrapping for optimal protection. The 1.25-in. high loft coupled with the 24-in. width makes wrapping large products easier while using less material. Perforations placed every 6.75 in. enable packers to use just the right amount of product to avoid waste. This pre-formed, inflate-on-demand material also reduces shipping and storage costs when compared to pre-filled bundle bubble material.
The new 24-in. wide material comes 1300 linear ft/box and offers 66% more void-fill space than standard protective packaging materials. This new material is currently available in clear LLDPE, as well as EarthAware® recycled and biodegradable blends. Custom colors for all FastWrap sizes are also available.
"The growth in online ecommerce has driven the demand for lightweight protective packaging materials that can be used for multiple applications," explains Chris Rempe, Vice President of Global Marketing. "This new AirPouch material meets that need, protecting package contents and filling void space economically," he adds.
Companies in this article