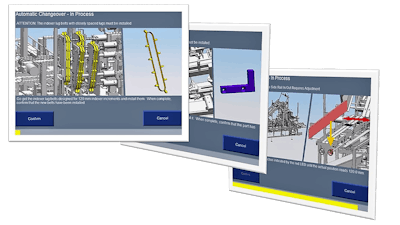 The Changeover Wizard provides automatic, repeatable changeovers with the push of a button. Benefits include ease of use, improved efficiencies, reduced product waste, and less time required for downtime and training.
For the past two years, Triangle Package Machinery has collaborated with customers to deliver intelligent support to cartoning operators in their increasingly complex work. The Changeover Wizard is the result of this collaboration. By providing simple instructions with visual prompts, the Changeover Wizard allows an operator to change carton sizes in only five minutes, versus 20 minutes on previous versions of Triangle's Flex 1 Cartoner and literally hours for other cartoners in the industry.
The Changeover Wizard evaluates all machine adjustment settings stored within the carton recipe. If operator intervention is required to shift or change a part, the wizard alerts the operator with photos identifying the part, as well as text instructions. Operators need only push a button to launch a stored recipe for single package cartons, rather than dealing with complicated tools and manual adjustments.When switching from a single package carton to a dual-package carton, the Changeover Wizard shows the operator which parts they'll need and how to quickly adjust to the new carton size. Because the product is designed to reduce the time required to produce acceptable cartons, it also provides higher OEE and reduces product and material waste.
Companies in this article
Videos from Triangle Package Machinery Company