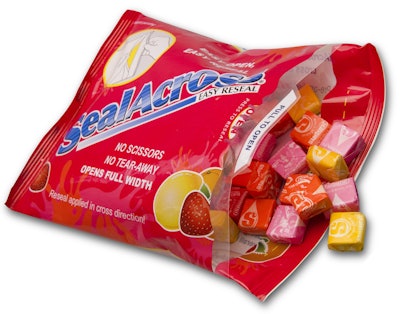 A custom adhesive formulation, the SealAcross label material is FDA compliant, moisture resistant, maintains package barrier properties, freezer and microwave compatible, and appropriate for a wide variety of film structures.
The new feature is ideal for a diverse range of products including but not limited to: ambient and refrigerated foods, baked goods and snacks, candy, meats and cheeses, produce, institutional products, OTC and personal care products.
Sealstrip developed the SealAcross package in response to the consumer desire for a package that opens and closes at the end seal and allows the package to open the full width for easier full width access to product. While Sealstrip always provided easy-to-use, economical features, these were previously only applied in the film flow direction "The ability to apply an easy open and resealable feature in line, in the cross direction is a game changer," states Director of Product Development Jo Anne Forman. "Now brands can enhance their packaging with more effective reseal technology, without adding any equipment to their lines."
In the SealAcross system, the pressure sensitive label and TamperTear™ technology is applied in the cross direction of the packaging film in Sealstrip's AIB inspected facility. By creating a pre-applied rollstock that is easy to run on existing VFFS baggers and flow wrappers, no extra film or new equipment is required, and the film's barrier properties are maintained. Forman adds, "The size of the package remains the same, and the brand does not need to purchase costly new equipment and train operators.
Sealstrip President, Heather Chandler remarks on the product as a response to consumer behavior, "In many cases, consumers are more familiar with opening and closing packages from the end seal – with or without a feature - making cross direction an intuitive choice for convenience features." With SealAcross, the stiffer heat-sealed end seal of the flexible package has a more robust feel than the rest of the package as it is twice as thick. The consumer grips the end seal of the package and the tab of the label and pulls apart to open full width for easy access to the product. Once opened, the unique TamperTear™ makes it difficult to realign package graphics, providing highly effective tamper evidence without interference of brand integrity, package performance or convenience. The consumer simply presses to reseal. With no tracks to line up, the package is easy for anyone of any age to open and reseal the package. The consistent reseal contains the product and maintains freshness, reducing food and repackaging waste. SealAcross continues the Sealstrip legacy of enhancing consumer experiences with convenience.
Companies in this article