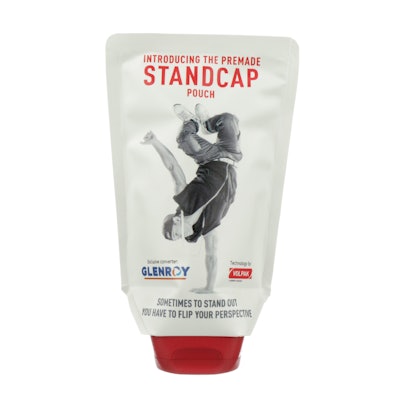 Ready-to-dispense, gravity fed package
Customizable anti-spill SimpliSqueeze® valve provides clean & controlled drip-free dispensing
Eliminates need for utensils when dispensing product
Stable, space-efficient design for easy storage
Easy-open flip-cap dispensing closure
Built-in tamper-evident pull ring
Lightweight & highly portable for on-the-go consumers
Provides 99% product evacuation
Heightened shelf visibility and instant shelf impact
STANDCAP has been proven successful in the marketplace—increasing market share significantly for an established brand—and the pouch is poised to disrupt entire product categories.
As the exclusive pouch converter of STANDCAP, Glenroy leverages proprietary Volpak converting technology to deliver STANDCAP as a premade pouch, providing brands with a low cost of entry option.
Featuring an innovative closure by Aptar—a leader in innovative dispensing solutions—the STANDCAP provides mess-free, controlled dispensing with clean product cutoff. The SimpliSqueeze® valve can be fully customized for the viscosity of your product and the desired product stream.
Ideal for food, beauty, and home products, this fun-to-use package favored by consumers provides optimum differentiation on the shelf and a competitive advantage for your brand.
Sometimes, to stand out, you have to change your perspective. Be the first to disrupt your product category with this game-changing pouch. To learn more, visitglenroy.com/standcap.
Be sure to catch STANDCAP on the Innovation Stage at Pack Expo Las Vegas:
"Convenient Pouch Products Disrupting the Market"
Mon., Sept. 25th | 2:00 PM - 2:30 PM | Innovation Stage C-1041
Companies in this article