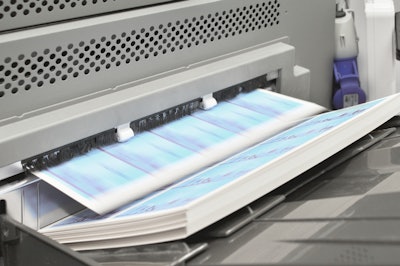 In response to the latest customer trend for larger digital sheet constructions for use on HP Indigo presses, Mactac® Distributor Products has added several new pressure-sensitive sheet solutions to its METRO® Digital product line.
The new 29.5"-by-20.5" products were designed specifically for customers who use the newer HP Indigo 10000 and 12000 series presses that feature the larger B2 sheet size.
"In today's digital printing business, more and more HP Indigo press users are investing in the larger 10000 and 12000 series presses, which are designed to accommodate a larger B2 sheet size," says Nate Gill, product manager, Mactac Distributor Products. "At Mactac, meeting our customers' needs is our top priority so upon recognizing this growing trend, we immediately looked to develop larger-size pressure-sensitive sheet solutions. With the addition of the new products, no matter what sheet-fed HP Indigo digital press a customer is using, we have them covered."
The new METRO Digital sheet stocks (MIP295205HPS-2, MIP295205SPS-2, MIP295205MPS-2, MIP295205UPS-2) feature the same attributes and characteristics HP Indigo customers appreciate from the product line's 12"-by-18" and 13"-by-19" constructions, including:
A general purpose permanent acrylic adhesive specially formulated to eliminate sheet-edge adhesive bleed.
A cost-effective white Kraft layflat liner with outstanding internal strength, toughness, and tear-resistance for kiss-cutting.
They are available in high-gloss, semi-gloss, matte and uncoated finishes and are ideal for a wide range of applications, such as point-of-purchase displays, package/product identification, promotional labeling, direct marketing, magazine inserts, small volume decals, and other quick-turnaround print jobs. METRO Digital products feature a two-year shelf life.
Companies in this article