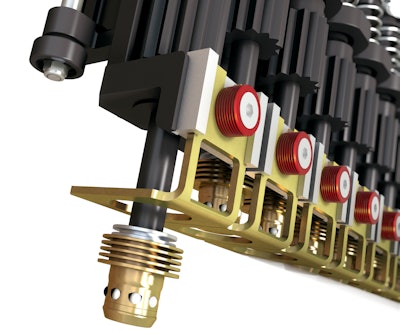 This new option is of interest to all beverage producers who bottle products with different types of neck. During a format changeover operators not only switch over the blow molds but other components as well. The conveying mandrel in particular is of especial significance in this process as a full changeover of these format parts was extremely time consuming to date. When a product is changed over during beverage production and requires a change in the type of bottle neck, to date each individual mandrel had to be exchanged in its entirety.
KHS has now developed a variant which is much quicker to replace, making changeovers ergonomic and tool free without any great force being required. Besides the conveying mandrels the shields, grippers and other parts can now also be easily switched over using quick-change mechanisms; in some cases these can be adjusted without any installation work being required by simply rotating the part. Thanks to the above measures formats can be changed over in less than half of the time operators used to need.
The new procedure can be easily retrofitted on any InnoPET Blomax Series IV stretch blow molder; following one-time adjustment of the conveying mandrels, no further mechanical or electrical conversion of the machine is required.
Companies in this article