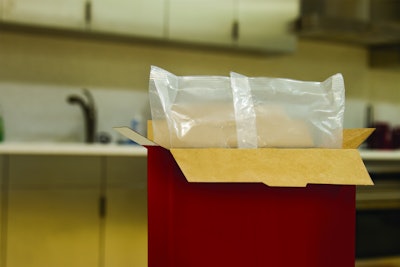 Berry Plastics, a provider of rigid and flexible packaging and protection solutions, added two new products to its family of barrier films for bag-in-box.
HiBloc XTough is a barrier liner film that prevents sharp, rough-edged, difficult-to-hold dry goods from piercing through carton liners in vf/f/s applications.
HiBloc MCLR, an all-poly, extruded film, is an economical replacement for costly laminated metallized films. This new multi-layer film provides performance comparable to metallized films, but with the added benefit of being able to use metal detection during the fill process. HiBloc MCLR's clarity provides consumers with the ability to see the contents inside the liner bag.
"We are dedicated to continuously improving existing products and creating innovations that provide solutions for our customers," says Tom Catoe, product manager for Berry Plastics' Flexible Films Packaging. "These two new products are the latest examples of how we are working to engineer packaging solutions to protect from the inside and out. Both new films offer MVTR, OTR, and flavor barrier protection, broad seal temperature ranges, and peelable seals. With the launch of these new products, Berry Plastics is able to help our customers as they strive towards improved product safety and freshness, while enhancing their consumers' experience."
Companies in this article