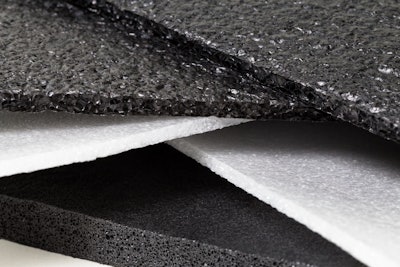 The company's HMS-PP has received exceptional acceptance from clients using the product in extruded foams over a wide range of densities and using various blowing agent types.
The characteristics of Braskem's HMS-PP, along with polypropylene's inherent chemical resistance and high service temperatures, make this product an excellent choice for extruding foams via direct-injection (DI) processes, processes using chemical foaming agents, and other specialty foam processes. In some processes, foam densities as low as 40 kg/m3 with high stiffness have been achieved. In other applications, foams with extraordinarily high-closed cell content and surface quality have been demonstrated. Low density foams made with the company's HMS-PP offer superior recyclability, making it a potential replacement in foam applications currently dominated by cross-linked PE, PVC, and PUR. This will provide clients with a more sustainable solution and an alternative to some less environmentally friendly foam products.
In addition to foams, Braskem sees their HMS material as having possibilities in many solid compounded or deep-draw thermoforming applications where melt strength can expand the window of PP process performance.
"Our new HMS-PP offers a unique balance of foam process performance and mechanical properties, including very high stiffness and heat resistance. We are excited about the vast array of possibilities that our new technology brings. We look forward to working with clients to demonstrate the value it can bring to the market," said Alexandre Elias, vice president of polypropylene for Braskem America.
To support the development and demonstration of HMS-PP technology, Braskem has installed a pilot-scale engineered foam line in their state-of-the-art Innovation and Technology Center in Pittsburgh, Pa. This is a new addition to the facility, which is considered to be one of the industry's most comprehensive PP development laboratories. Braskem uses this asset to work in close collaboration with its clients to develop new polypropylene applications and perfect existing ones.
Companies in this article