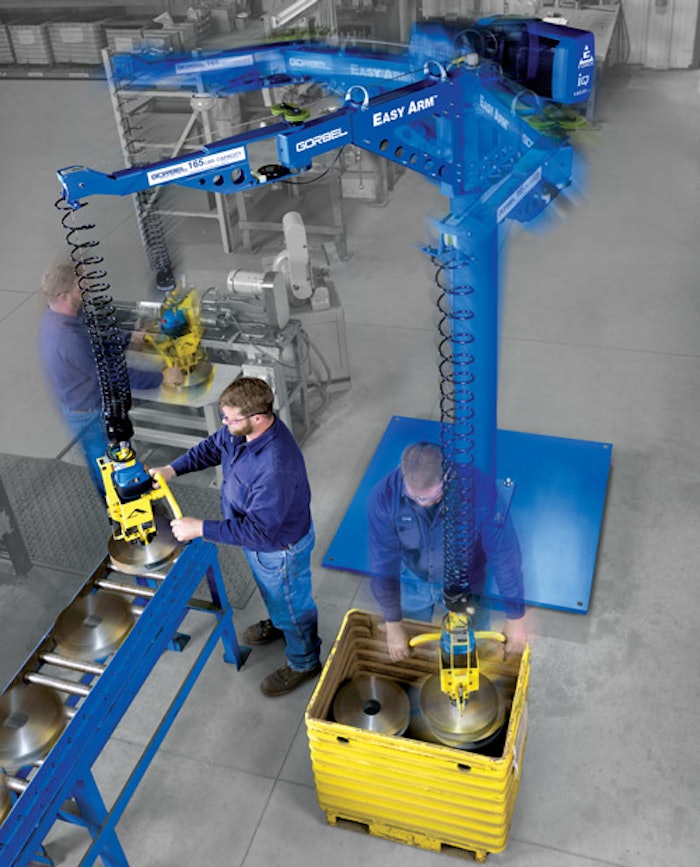 The same level of quality is evident in their G-Force® and Easy Arm® Intelligent Lifting Devices. These innovative units enable operators to lift and maneuver naturally, as if the devices were an extension of their arms. The Q and iQ model Intelligent Lifting Devices will help improve productivity, reduce the cost of product damage, and minimize work-related injuries.
Gorbel's G-Force® and Easy Arm® devices are part of an exciting new family of material handling equipment known as Intelligent Assist Devices (IADs). They use exclusive patented technology and an industrial processor controlled servo drive system to deliver unmatched lifting precision and speed. Their fusion of advanced technology and basic human guidance maximizes productivity while minimizing the risk of injury to the operator. There are two models of Gorbel Intelligent Lifting Devices to choose from: the Q and the iQ. The Q model is the feature packed base model. It offers the same speed and precision as thehigher-end iQ model, but without the added Input/ Output features that the iQ offers. The iQ model offers a wealth of additional intelligence features.
The G-Force® and Easy Arm® offer:
ANTI-RECOIL TECHNOLOGY This prevents the G-Force® and Easy Arm® units from moving or recoiling when there is a sudden change in load, reducing the risk of potentially serious injury.
INFINITE SPEED CONTROL Gorbel's Intelligent Lifting Devices move with the operator. They move as fast or as slow as the operator chooses to move. They are ideal for applications that require high speed at some points in the cycle and slow, precise movements at other points.
PINPOINT PRECISION Gorbel's Intelligent Lifting Devices deliver unparalleled precision with speeds of less than 1 fpm (0.3 mpm). This gives the operator the control necessary to finesse expensive or fragile parts.
POWER LOSS PROTECTION A fail safe load braking system locks the unit in place in the event of a power loss.
BLAZING SPEEDS With G-Force® speeds reaching 200 fpm (61 mpm) and Easy Arm® speeds reaching 180 fpm (55 mpm), these devices travel up to 4 times faster than traditional high-end lifting devices currently on the market, making them the fastest, most precise lifting devices on the planet.
OPERATOR PRESENT FUNCTION The handle grip of our Intelligent Lifting Devices uses a built-in photo-sensor that doesn't allow the unit to move unless the operator initiates the movement.
CAPACITY OVERLOAD The units will not lift if the load exceeds their rated capacity.
FLOAT MODE The G-Force® and Easy Arm® units offer our versatile Float Mode. With a mere 1/2 lb (227 g) of force on the load itself, operators can precisely orient loads throughout the full stroke range by manipulating the load with their hands.
Check out some videos of the G-Force and Easy Arm in action here.
For more information on Gorbel, click here. 
Visit Gorbel at Booth# 6498 in the North hall at IMTS.
Companies in this article