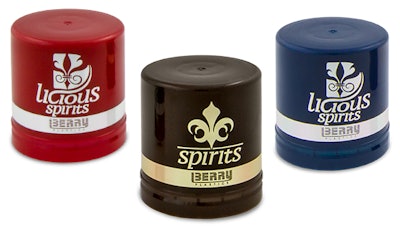 Berry Plastics has launched Luster, a family of decorating processes that offers a variety of decor options for plastic closures for the spirits market. Hot foil stamp printing, which results in a luxurious appearance, is currently available in custom and stock colors at its Bowling Green, Ky., manufacturing facility.
"We can now offer spirits customers a way to present a premium, high-end image for their brand, while keeping the benefits of plastic closures," said Brian Jacobi, VP, sales and marketing, Beverage Division. "We are the only plastic spirits closures manufacturer that offers this type of premium decoration. Until now, the primary way brand owners could achieve this look was with more expensive, less user-friendly metal closures."
Hot foil decorating is available in four stock colors – gold, silver, black, and white. A range of custom colors, textures, patterns, and special effects can be developed. This process is currently compatible with 33 mm upscale and smooth wall closures. Both side wall and top stamping print options are available.
The U.S. spirits industry is experiencing strong growth, with brand owners introducing new brands and flavors to meet consumer demand. Brands across the price spectrum are seeking a new look to stand out on the shelf and deliver on a promise of a premium experience to the consumer. Berry Plastics developed Luster to create a way for brand owners to convey that image with a closure that seals and opens easily and feels better to the touch.
Companies in this article