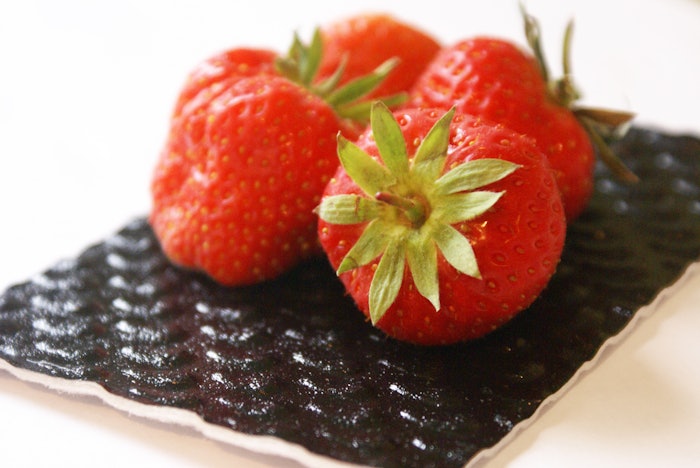 Dri-fresh Soft-hold fruit cushioning pads are 'absorbent bubble pads' – perfect for berries of all types - combining the cushioning and protective properties of bubble films with effective absorbency, high permeability and excellent presentation.
It is a breakthrough product which will transform the industry - adding value to all areas of the soft-fruit growing, distribution and retail chain. It will reduce wastage, reduce transit costs, open new export markets and encourage sales growth for all types of soft fruit.
"Dri-fresh Soft-hold is the perfect product for soft fruit protection," said Gillian Carter, sales manager for fresh produce. Like all Dri-fresh pads, Safe-hold is available with integrated anti-fungal properties for extending shelf-life in all applications.
"Soft-hold has been developed with distributors and retailers in mind, with an eye on the needs of the companies involved. Our customers have been telling us they want pads that offer more protection for the fruit, which extend shelf-life, and are affordable."
Dri-fresh Soft-hold is available as loose pads of any size as well as reels for automatic packaging operations. Standard colours are red and black and other colours are available on request. The products are available for all global markets and applications.
Simon Balderson, Sirane MD, said he was truly excited about the launch of Dri-Fresh Soft-hold. "This has the potential to transform the industry," he said, "and add value to all areas of the soft-fruit growing, distribution and retail chain. It is a genuine breakthrough.
"The Soft-hold surface has a unique 'tear-drop' embossing pattern which raises the fruit from the surface to encourage air-flow and inhibit sweating, damage and corresponding fungal growth. The thermo-formed pattern is designed to minimise the contact area between each berry and the surface and to prevent the berries from moving around the pack.
"The pad is absorbent and quickly absorbs and traps any leakage from the fruit to ensure clean and attractive presentation. The pure colours available highlight and contrast the natural colour of the fruit to give the best possible appearance and quality perception."
Dri-fresh Soft-hold is the result of several years of dedicated research and development in Sirane's Development Centre and extensive trials in the global soft-fruit market. The Dri-fresh Soft-hold core is a gently-yielding cushioning material which provides the softest support for each berry – giving it the best possible chance of staying in perfect condition.
Anti-fungal options are also available - anti-fungal treatment been shown to extend the shelf life of soft fruit beyond that available with current technologies. Integration of pad and anti-fungal treatment can significantly reduce packaging costs for growers and distributors.
 
Companies in this article