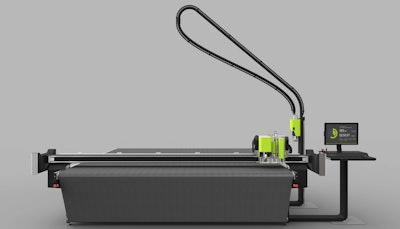 A large, complete finishing system, the Kongsberg C64 model works with 126-in. wide x 126-in. long (3.210 mm by 3.200 mm) materials, fitting modern wide format printers. The Kongsberg C60 model accommodates 126-in. wide x 63-in. long (3.210 mm x 1.600 mm) sizes.
Covering more than 10 feet across the table, a unique, extremely rigid, carbon-composite traverse beam helps assure precision and supports high speed, fast acceleration, high-quality creasing, and exclusive, powerful 3kW milling capabilities. The system is said to eliminate left/right/middle variances due to traverse bending. It does not decelerate with demanding materials, and is able to handle a variety of complex jobs.
The system processes a wide variety of materials, working with an extensive range of finishing applications and substrates:  from paper and textiles to corrugated up to triple-wall thickness (unique to the Kongsberg C), fluted board, plastics, aluminum composites, and more.
The Kongsberg C offers a 3kW continuous duty high-performance milling unit, and consistently delivers the same performance. The company offers a full solution consisting of hardware, software, bits and blades, and services. Four "power" tool units and a full assortment of "speed" tools are available.  Also, the table can be upgraded with additional tooling, a conveyer feed system, roll feeder unit, and more.
New tool covers offer clean, fast changing of the full range of Kongsberg XP tooling. The Kongsberg C fits all production needs – rolls, sheets, corrugated, milling – offering an effective and small footprint in one machine.
A new, simple interface helps ease the replacement of interchangeable tools on the table, reducing operator error.  The new workstation mounts on any corner of the machine. A new maneuvering concept places an integrated joystick and operator panel on the traverse, which can be mounted on either side of the table. In fact, to make it easier for another operator, a second operator panel can be added. For easy loading and unloading, the new conveyor option can be manually jogged in both directions.
Companies in this article