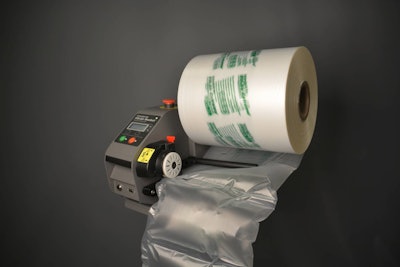 Sealed Air announces the launch of Fill-Air Rocket inflatable void-fill system. Appropriately named, the Fill-Air Rocket operates at a speed of 100 feet of film per minute and possesses a quick start feature that instantaneously begins producing bags. The instant start mechanism effectively triples bag production during the first 20 seconds of operation versus the Fill-Air Cyclone® system and in some cases eliminates the need for void-fill accumulation.
"The Fill-Air Rocket system reflects Sealed Air's commitment to providing solutions that meet customers' needs for packaging that enhances operational performance and ensures product protection," said David Weiss, business manager, Fill-Air®inflatables at Sealed Air. "The system is packed with advanced technology that enables precise and consistent sealing. This is by far the most important factor in determining air pillow performance and ensuring the product is protected from the time it leaves the warehouse until it arrives on the consumer¹s doorstep."
Smaller and lighter than previous systems, the Fill-Air Rocket system is easy to install in a variety of packaging line configurations. Additionally, customers seeking to reduce operational noise levels and improve conditions for staff can benefit from the system's "quiet mode" option. In this operating mode, the Fill-Air Rocket system continues to inflate material at an impressive 65 feet per minute rate.
In addition to unparalleled production speed, the system incorporates a host of performance enhancing features that can add efficiency to customers' packaging operations. Innovative cross seal identification sensors enable the Fill-Air Rocket system to stop and start automatically on a cross seal every time. This feature optimizes bag fill for consistent protective performance. An enhanced inflation nozzle makes it easier to load film, and an automated edge alignment system eliminates the need for manual adjustment. As a result, the system produces more consistent cushions throughout the production cycle. A new spring-loaded tension control keeps the appropriate amount of tension on the film to ensure even inflation throughout the roll.
Compatible with 8-inch, 10-inch and 12-inch film widths and lengths of 5 inches and 8 inches, the Fill-Air Rocket system is designed for use with Sealed Air's Fill-Air Extreme® and Fill-Air Extreme Efficiency® inflatable void-fill film.
The Fill-Air Rocket system is rooted in Sealed Air's SmartLife approach to sustainability, which considers environmental impact in view of the full life cycles of both the packaging materials and the products they protect. By enhancing fill consistency and seal quality, fewer bags are necessary to adequately protect products being shipped. In addition, Fill-Air® films compatible with the system provide considerable sustainability benefits. Fill-Air Extreme® film offers a 25 percent carbon footprint compared to previous generation materials, and Fill-Air Extreme Efficiency® further reduces carbon footprint by 37 percent compared to Fill-Air Extreme® film. Also, under an agreement with the Green Blue Coalition, Sealed Air can print the how2recycle.info URL on all our Fill-Air Extreme® film products. This site directs customers to store locations in their area that will collect the film and send it to be recycled.

Companies in this article