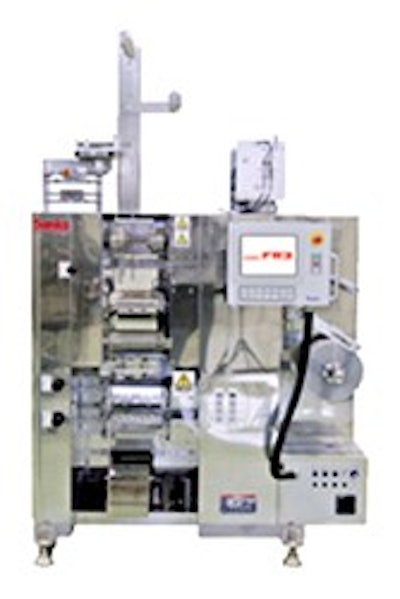 With over 500 systems currently operational, the FR-3 has been a central part of Sanko¹s packaging machinery portfolio for many years. As the exclusive representative for Sanko packaging machinery in North America, T.H.E.M. is now offering the FR-3 to a broader base of North American consumer packaged goods companies.
"This is a very exciting development for us," commented Neil Kozarsky, CEO and president of T.H.E.M. "The FR-3 offers significant speed and efficiency benefits to our core food and beverage customers. We also see significant potential in the personal care and cosmetics markets, two important segments that we are also addressing."
The Sanko FR-3 is available in narrow web and multi-lane configurations, and can be set up for both three- and four-sided form-fill-seal packaging of liquids and pastes. Unlike conventional machines where the sealing pressure is determined on the basis of an operator¹s skill and experience, the FR-3 stores numerical packaging data for each product to be packaged. As the machine is adaptable for each different package, it can be operated directly by the numerical control system. Change of bag length, adjustment of the position of the I-notch, perforation, and cutoff can be made by simply tapping the 9.5 in. LCD touch panel display. Other adjustments can be made in a similar way, even while the machine is operating.
Standard features of the FR-3 include heat-resistant, lubrication-free bearings, non-backlash gears, an automatic film centering mechanism, and a rotary connector for the attachment of a heater. Among the machine's many available options are an automatic side wobble control system, liquid flow meter, definite quantity divider, and definite quantity shutter.
Typical applications include condiments, soup concentrates and salad dressings, in addition to lotions and cosmetic products. The adaptable system can accommodate liquid filling for a broad range of consistencies, including gels and pastes. A proprietary ultrasonic sealing system allows sealing of products containing particulates.
Companies in this article