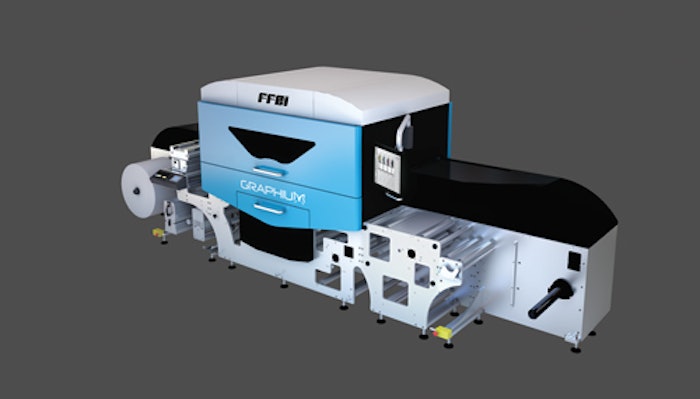 Graphium is a modular UV inkjet press that provides the flexibility and productivity to print any number of complex projects requiring a wide gamut of colors on virtually any substrate.
Utilizing greyscale print heads that produce a range of drop sizes from six to 42 picoliters, Graphium prints fine details, smooth tones and small font text resulting in unrivalled print quality at class leading, single-pass print speeds up to 164 ft./min.
Graphium utilizes Fujifilm's Uvijet inks in a color set including Cyan, Magenta, Yellow and Black together with a high opacity white.  Uvijet inks provide a wide color gamut, excellent adhesion and durability on a wide range of substrates including most grades of top-coated PE, top-coated PP, PVC, and paper.
Supporting up to five digital modules, and six flexo stations, Graphium offers the unique capability of being able to integrate optional flexo and finishing stations in-line for conversion in a single pass. This capability significantly reduces production time and cost in comparison to traditional offline finishing.
"We are on a mission to transform the digital labels, packaging, and specialty print market, and Graphium represents a major step towards achieving this goal, said Andy Cook, managing director, FFEI Ltd. "Graphium represents a new generation of digital inkjet press aimed at the narrow web market, low capital investment, high quality print, unparalleled productivity, and the most versatile range of applications." 
Graphium combines a range of leading technologies, including Fujifilm's innovative XMF Workflow, prepress and color management software, as well as inkjet head calibration technology, to ensure consistent quality and repeatable production. For printers, that means consistent proof-to-press match and alignment to color standards; yielding high-quality, vibrant printing.