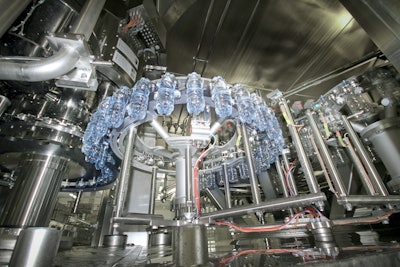 The new Sidel Matrix system is designed to be future-proof, integrating changes brought about by technological and market developments, with several options and upgrades already available to suit changing needs.
Sidel Matrix blowers ensure high production efficiency and can produce as many as 2,250 high-quality bottles/mold per hr. It has a modular architecture that enables easy and flexible configurability. With three times more configurations, it can be easily adapted to individual beverage industry requirements. Three sizes of blowing stations make it possible to produce many different bottle shapes, in sizes ranging from 0.1 litres to 3.5 litres. Increased heating yield in the Ecoven and electrical stretching provide a better material distribution and a more consistent process to ensure package integrity and consistency. In the blowing process, unique neck protection, combined with an embedded intelligence for bottle quality control and self-regulation, minimize the standard deviation of the bottle blown, automatically reducing scrap.
Easy to operate, the Sidel Matrix blower benefits from quick and easy assisted mold changeover between formats: less than 15 minutes bottle-to-bottle by a single operator with Sidel's Bottle Switch system on a 20-cavity machine. Downtime and manual labour costs are reduced and ultimately more bottles are produced in less time.
Requiring fewer heating modules and lamps, the installed Ecoven reduces preform-heating time and cuts electrical consumption by up to 45% while maintaining a very high process capability. Savings on compressed air consumption can reach up to 35% compared with previous Sidel generations. Built with grease-free components and fewer mechanical parts, the Sidel Matrix blower requires significantly less maintenance.
The Sidel Matrix fillers have been designed with a particular focus on hygiene for both still and carbonated beverages. Quality of production is achieved through various features such as a reduced enclosure for better control of the filling environment, which can be operated under a positive overall pressure to avoid contamination from external sources. Integrated electro-pneumatic components, the absence of vertical movement of the bottles, no ring bowl or carousel and no contact between bottle and filling valve for still beverages eliminate the risk of cross-contamination. There are two filling valve alternatives: the proven Sidel magnetic flow-meter or Sidel's new flow-meter Vortex valve dedicated to filling pure water with low conductivity.
Sidel Matrix fillers are operated by brushless motors to reduce the number of mechanical components requiring maintenance. The well-defined module interfaces contribute to easily handle various types of beverages, whatever the recipe or bottle format. With neck bottle handling by gripper, format changeovers are very fast, with the option of fully automatic changeover to achieve greater productivity and greater overall equipment efficiency (OEE).
Integrating mixing and filling processes into one system (Blendfill configuration) minimizes product loss when switching production between different beverages. Improved cleaning technology also significantly reduces water and chemical use. Savings in electricity consumption of as much as 30% are also possible as a result of the use of servomotors.
Bringing together all the benefits of Sidel's Matrix blowing and filling innovation into one high-impact solution, the fully integrated Sidel Matrix Combi blow-fill-cap solution improves hygiene while cutting costs to bottle still or carbonated beverages. Based on the same principles as earlier models, the Sidel Matrix Combi has a single, hygienic enclosure with no intermediate equipment.
Its overall efficiency, compact size, ergonomic design, easy operation, and maintenance - along with its low consumption of energy and materials - all contribute to lower production costs. With improved commonality between the blowing and filling functions and a single operator interface to improve ergonomics, the Sidel Matrix Combi is more easily controlled, with better overall performance, less need for manual servicing, and far greater flexibility. The homogenous maintenance plan results in increased uptime and aligned documentation simplifies the entire maintenance process.
Sidel Matrix Rollfed labeler is the first Sidel Matrix labeling solution. It allows customers to produce bottles with labels at a reasonable cost, offering the possibility to use labels that are one-third thinner. Although based on the most common labeling technology on the market, it has innovative features that make it possible to optimize performance by speeding up the application of labels and cutting costs on everything, from materials to maintenance.
Sidel Matrix Rollfed uses direct-drive technology to replace gearboxes and mechanical transmission. This complete motorization of all the axes means highly-reduced maintenance and a reduction in energy consumption of up to 30%. Having fewer moving parts connected directly to the motor results in fewer breakdowns and a longer operational life. As every labelling module is directly managed with individually driven motorization, this contributes to faster format changeovers, offering more flexibility to manage a larger range of format configurations. It is capable of handling bottle diameters from 45 to 160 mm and managing different types of materials and ultra-lightweight bottles.
All vital areas of the layout are accessible should any kind of intervention become necessary and simpler changeovers reduce the risk of injury. Instead of a table that connects all three main elements – labeling station, carousel, and infeed/outfeed handling – the system features an individual structure for each process, eliminating the respective maintenance. The maintenance required on the labelers has therefore been reduced by approximately 40%. Quick installation and ease of upgrading is possible since all main modules can be replaced without dismantling the unit.
Companies in this article