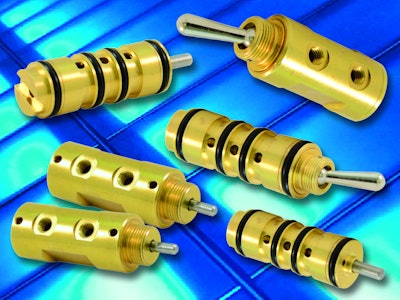 The HV-3 Series is a fully-ported 3-way valve. This can be used as a selector valve choosing between two separate pressures or fluids going to a single output. Because it's fully-ported, the inverse will work as well: using the valve as a diverter sending a fluid to two separate outputs. Also, the valve may be used as a Normally-Closed or Normally-Open 3-way valve.
The HV-4 series is a 4-way valve that vents its exhaust ports to atmosphere and is useful for powering simple cylinder applications.
Clippard standard stem options are available for use with inter-changeable actuators. Bright dipped brass construction provide long life and corrosion resistance.
Companies in this article