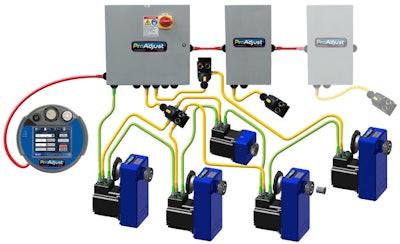 Compatible with most machinery, the self-contained ProAdjust system consists of a controller and integrated PowerPacks that provide the motion. The easy-to-implement system is scalable from one to hundreds of adjustment points.  Wiring is plug-and-go, and no programming is required.  ProAdjust uses a simple point and click touch screen interface for one-time machine setup, and features an easy setup for creating and editing recipes.
The ProAdjust integration is completed on-site and requires no middleware or manual adjustments to achieve consistent, precisely aligned, automatic adjustments of machine change-over points.  This helps increase throughput, and eliminate mistakes and excessive change-over time. 
ProAdjust can be added onto new equipment from an OEM as a low cost option, or older existing equipment as a field retrofit.
Companies in this article