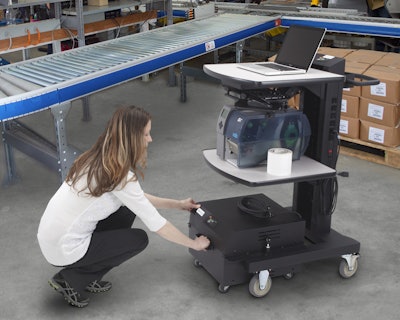 A convenient alternative to purchasing a second workstation, the Power Swap System is suitable for facilities with multiple work shifts or applications that draw enough power to shorten typical battery life. The power units are on swivel casters, and their connectors mate easily with the workstation's ports.  A unit with a depleted battery can be swapped with a fully charged unit in only 30 seconds.  The spent unit is then recharged at a standard wall outlet.
Housed in sealed, fully-ventilated steel cabinets (16- x 16- x 12-in.) with built-in handles and cord holders, the new power units each include a UL- and CSA-approved inverter/charger package and a digital remote meter with a color-coded LED display that provides battery status and an audible low-voltage alert.  The units are available with one battery (100 AH) or two (200 AH).  The single-battery configuration (PS22) will typically power a laptop/tablet computer and a large printer for 8+ hours and recharges in 3-5 hours. The dual-battery configuration (PS25) will typically power a desktop PC and a large printer for 8+ hours and recharges in 8-10 hours.  Run time varies according to use.
An international version of the new Power Swap System is available, as is a conversion kit for existing NB Series workstations purchased in 2012.  The kit contains all components required to convert the workstation's power cabinet to a power swap unit.
Companies in this article